Brazil-France Recap
June 10th, 2013 | by: Duvel |

Comments Off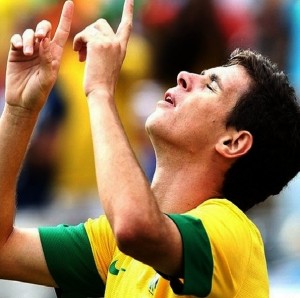 We know who our most important player is at this Confederations Cup.
It's just not Barcelona winger we thought it would be.
Led by the emerging and man of the match Oscar, Brazil ran to a 3-0 in Porto Alegre over France. It was their first victory over the French in two decades. The match saw the deserved result, with the Seleção continuing their offensive improvement, while delivering a clean sheet on the other end.

To say this first half of this match was uneventful might be considered an understatement. Make no mistake about it, Brazil's lack of productivity the first 30 minutes to the match was a direct result of a lack of involvement by Oscar at the start of the afternoon.
The team struggled in possession and too much was going through Neymar and Marcelo on the left wing. Oscar's centralization in the midfield after a half hour changed that. When he was given the ball he was creative and had the look of a world class midfielder.
Also improving as the match went on was Luiz Gustavo, who became better in the passing game as time progress, but was a rock defensively in the midfield for all 90 minutes. He is quickly becoming one of Brazil's most indispensable players. If he had a more capable central midfield pairing than Paulinho, I think Brazil could enter 2014 with their midfield woes being officially solved.
Is Paulinho a bad player? No.
In fact, in many respects he is Felipão's 2013 version of Kleberson.
However, do not tell me a Hernanes, Luiz Gustavo, Oscar midfield does not have the potential to be the best at the World Cup. Hernanes again was lively and scored a well earned goal in the second half. If he played for a Champions League club I feel like people would consider him an elite midfielder internationally. He has always been a grossly underrated player since his São Paulo days.
The Brazil that showed up in the second half on this match is a team that could probably beat anybody. However, football is 90 minutes. Getting that second half team to be the team is the challenge ahead for Felipão.
Is having a better forward up top a need? Absolutely. Not to mention consistent play from whoever players right wing.
However, a year ago at this time we were basically talking about how Neymar and the back four were good, but the rest of the team was a mess.
Felipão is building a project. He is building an improving side. A side you would expect to improve as a new manager continues to establish himself on the bench.
There are still holes on this team, but there is a year to fill them.
Subscribe

Brazil World Cup Team Blog RSS Feed

Share
Comments are closed