Brazil-Netherlands Preview
July 1st, 2010 | by: Duvel |

View Comments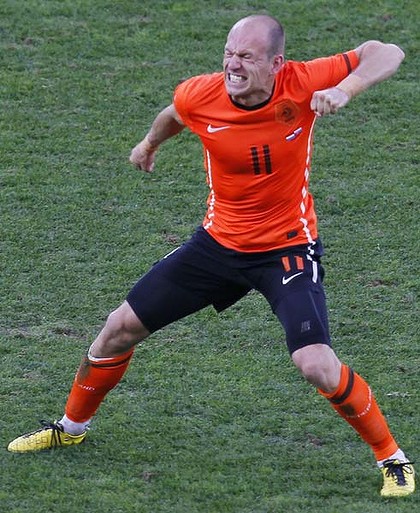 Brazil v. Netherlands
Friday, July 2nd, 10:00 AM Eastern Time
Nelson Mandela Bay Stadium, Port Elizabeth, South Africa
TV links: ESPN, ESPN3.COM, Other links
Live Blog at 10:00 ET
Sixteen years ago in Dallas, Texas we had a quarterfinal for the ages. A quarterfinal that featured, in my opinion, the two best teams at the 1994 World Cup. It would be a match, that regardless of outcome, many thought would eventually produce the World Cup winner.

So it did.
Now, sixteen years later, history may be repeating itself as the Netherlands and Brazil renew their rivalry in Port Elizabeth, South Africa.
You can't say too many mean things about the Dutch. Beautiful nation. Friendly people. Outstanding beer. Solid football. They provided the world with one of the great, innovative eras of the game: Total Football.
This will not be an easy match for either side. It will be physical. It will be a chess match at times. However, it will be a match that the seleção ultimately prevails in.
The Dutch come into this match as a bit of a wild card at this World Cup. It's hard what to make of them at times. They have not looked convincing in South Africa, and I think most Dutch fans would agree. They had arguably one of the easier draws of the tournament. They had a very, very easy World Cup qualifying group that featured Norway, Scotland, Macedonia, and Iceland. But they get the results they've been expected to get in those matches.
They are coached by the pragmatic Bert van Marwijk, who has only lost one match as manager of the national team, back in September of 2008 against Australia. However, under his reign, they played previous World Cup winners twice, drawing both times.
This match against Brazil is BY FAR the most difficult challenge that Holland has faced in the last two years.
Brazil needs to approach this match with great caution and awareness of what the Dutch offer in attack. Rafael van der Vaart, Wesley Sneijder, Robin van Persie, and Arjen Robben are world class, technically gifted players. Sneijder has great accuracy on his long balls. Gregory van der Wiel is a young up and comer at right back that Michel Bastos is going to need to be vigilant about.
You see this lineup, and you think "they must always light up the score sheet." Not exactly.
This Dutch team is not your father's Dutch team of years past in terms of tactics. I feel that van Marwijk has taken a very cautious approach to compensate for concerns in his defense. You'll see here that the average positioning of their holding midfielders, Mark van Bommel and Nigel de Jong, is quite far back, and they really stay that far back.
You look at parts of their back four, and you start to see why that makes sense. They were shaky in the back against Slovakia. If they give Brazil the same amount of opportunities to score they gave Slovakia they will lose this match, plain and simple.
Giovanni van Bronckhorst at left back has got to worry the Dutch fans against a full dose of Dani Alves and Maicon storming down that side of the pitch. I just can't envision a scenario where Brazil is kept off the scoresheet in a match like this, against this defense.
The real question becomes can Holland score two goals or push it to penalties? They are capable of it of course. You look at our back four, knowing that Dani Alves, Gilberto Silva, and Felipe Melo are supporting them, with Julio Cesar in goal, and it becomes safe to say this putting two on this group is probably not going to happen.
Holland is going to need to let van Bommel and de Jong come forward to score the amount of goals I think it will be necessary for them to score to win this match in regular or extra time. It is a pick your poison dilemma because if they do that, you give Brazil space on the counter, and that normally doesn't end well for our opponents.
Felipe Melo and Gilberto Silva's performances will obviously play a large role in controlling the midfield play and the Dutch attack. If both continue their solid form at this World Cup the Dutch job will be that much more difficult.
Additionally, everyone needs to be vigilant about Robben's positioning on the pitch. You cannot let him go left with the ball to release a shot. Ask Slovakia what happens when you do that.
Finally, Brazil will need to limit the fouls they give up within 30 meters of the box because Wesley Sneijder is a free kick master.
All in all, with absolute respect to the Dutch fans out there, I just think Brazil has too much quality on both ends of the pitch to lose this match.
Probable Starting XI: Julio Cesar, Michel Bastos, Juan, Lucio, Maicon, Felipe Melo, Gilberto Silva, Dani Alves, Kaka, Robinho, Luis Fabiano
Prediction: Brazil 2 – 1 Netherlands
Subscribe

Brazil World Cup Team Blog RSS Feed

Share
blog comments powered by Disqus