Brazil-Netherlands Recap
July 2nd, 2010 | by: Duvel |

View Comments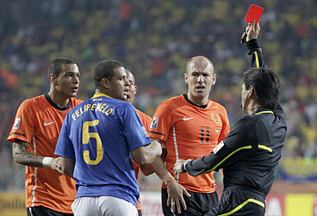 Brazil 1 – 2 Netherlands
It definitely was a tale of two halves today.
After forty-five minutes it looked like this was going to be a much more comfortable affair than anyone could have imagined.

Brazil struck early on a defensive mistake by Dutch defender Johnny Heitinga, as Robinho snuck behind the defender and received an excellent through ball from Felipe Melo. The seleção asserted their control over match from this point until half, nearly scoring another goal before the break. Kaka hit a beautiful shot on goal that appeared to be going into the back of the net before a class save from Dutch keeper Maarten Stekelenburg.
The half would close on a worrying note when Michel Bastos picked up a yellow card, which would limit his ability to deal with the hard working Arjen Robben on that side of the pitch.
Everything changed in the second half, as a much more assertive Dutch side came out of the tunnel. Things took an irreversible downward turn when Wesley Sneijder's free kick in the 52nd minute was deflected by Felipe Melo, who did not clear the area when Julio Cesar was attempting to punch the ball out of the box. The keeper was partially to blame for not doing better with the punch, but Melo's presence made the task too difficult.
Later in the half, with the Dutch attacking, Felipe Melo again was the culprit, watching Wesley Sneijder put a header into the back of the net while the defensive midfielder watched like a statue.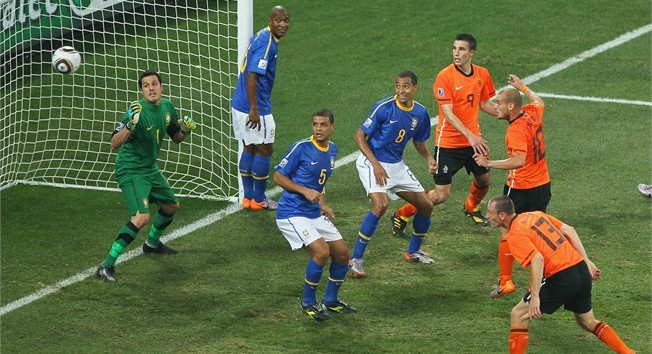 Felipe Melo would add the icing to the Dutch quarterfinal cake by willfully stomping on Arjen Robben while the match official was watching. Melo would earn a deserved red card to end an epically poor performance in the second half.
Melo after the match said he was sorry for the elimination, but not the red card, blaming the match official.
After the first Dutch goal it was clear something was wrong with the entire team. Brazil lost their composure completely. The defense was in shambles. The attack was sloppy. It was one those moments in a football match you wish you could call a timeout.
The Melo red card made sure a comeback was going to take a miraculous effort, one that would never come.
So after four years of waiting for a chance to redeem ourselves for a quarterfinal loss in 2006, we will have to wait another four. This time it will be at home. No excuses next time.
Player Ratings:
Julio Cesar, 5, He needs to do better on that clearance. Felipe Melo did not make it easy for him, but he needs to do whatever it takes to get a hand on the ball.
Michel Bastos, 5.5, Wasn't a horror show by any means, but he clearly was having a hard time with Robben. Robben made him look better by trying to get a shot on goal instead of a pass on multiple occasions.
Juan, 5.5, Did a nice job in the first half, but it all fell apart for him and Lucio in the second. Everything was so disorganized it was hard to tell at times what exactly was going on.
Lucio, 5.5, See above
Maicon, 7, I thought he did a good job at both ends of the pitch. He did what he needed to do today. I think he is one of the early favorites to take the captain's armband from Lucio.
Felipe Melo, 3, Just shocking. I don't think I need to add anything more to what I've already said. The only reason this rating wasn't lower was because of his effort in the first half.
Gilberto Silva, 6, He worked hard in this match. I think he did an adequate job in the midfield. Definitely proved that he belonged at this World Cup.
Dani Alves, 5.5, I thought he did a decent job tackling, but struggled with the passing. I wish we would have seen more of him at left back.
Kaka, 6, An inch away from scoring. Again, made small progress to getting to where we know he can play. This might have been his last World Cup, too early to tell.
Robinho, 7, Full of energy as always. Finished his best chance on goal. This was the team's first loss when he scores.
Luis Fabiano, 6, Worked hard as always, but went in and out of the match. Didn't get the proper amount of service from the midfield.
HOLANDA 2 X 1 BRASIL
Stekelenburg, Van der Wiel, Heitinga, Ooijer e Van Bronckhorst; Van Bommel, De Jong, Sneijder e Kuyt; Van Persie e Robben.
Técnico: Bert van Marwijk.
Julio Cesar, Maicon, Lúcio, Juan e Michel Bastos (Gilberto); Gilberto SIlva, Felipe Melo, Daniel Alves e Kaká; Robinho e Luis Fabiano (Nilmar).
Técnico: Dunga.
Gols: Robinho, aos dez minutos do primeiro tempo; Felipe Melo (contra), aos oito, e Sneijder, aos 22 minutos do segundo tempo.
Cartão amarelo: Heitinga, Van der Wiel, De Jong, Ooijer (Holanda); Michel Bastos (Brasil).
Cartão vermelho: Felipe melo.
Estádio: Nelson Mandela Bay (em Porto Elizabeth).
Data: 02/07/2010.
Árbitro: Yuichi Nishimura (JAP).
Subscribe

Brazil World Cup Team Blog RSS Feed

Share
blog comments powered by Disqus