Brazil-Portugal Recap Part 1
June 26th, 2010 | by: Duvel |

View Comments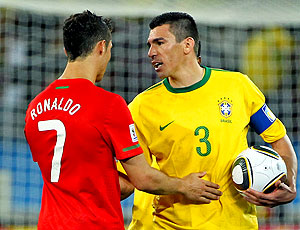 First of all, I want to apologize for the tardiness of the recap. It was a very busy day after the match, and I am just getting home. I am going to have to break this recap up into two parts, with the other coming tomorrow after the US-Ghana match.

Brazil 0 – 0 Portugal
What Portugal's manager was billing as a potential classic, was more like a sleeper as both sides played to a 0-0 draw.
With today's results, Brazil wins Group G, and will proceed to the Round of 16 to play South American rival Chile on Monday. Portugal meanwhile has a date with neighbors Spain, which should be an intriguing matchup.
I have to first give credit to Carlos Queiroz, who has developed Portugal into a very defensively capable team. It was hard to believe that this was the same side that allowed Brazil to put up six on them in their last matchup. They were very well organized on that end of the pitch, and got the desired result that guaranteed their progress into the Round of 16.
That being said, this was a boring match for the serious and casual fan alike.
Both teams seemed more than satisfied with a draw, even if Dunga was hoping for more from his players. Dunga said after the match, "It was a difficult match…We are not happy. Because we always want to win." Maicon also said bluntly, "We did not have a good match."
One person who did not have a good match was Julio Baptista. After watching his display as a fill in for Kaka, you gotta ask yourself exactly what he is doing on this team? All I was hoping for from him was an average display of form. Apparently that was too much to ask.
Again, I will have part two tomorrow, with playing ratings, and a comment on Lucio's very solid performance against Cristiano.
PORTUGAL 0 X 0 BRASIL
Eduardo, Ricardo Costa, Ricardo Carvalho, Bruno Alves e Fábio Coentrão; Pepe (Pedro Mendes), Tiago, Danny, Raul Meireles (Veloso), Duda (Simão); Cristiano Ronaldo.
Técnico: Carlos Queiroz.
Julio Cesar, Maicon, Lúcio, Juan e Michel Bastos; Gilberto SIlva, Felipe Melo (Josué), Daniel Alves e Julio Baptista (Ramires); Nilmar e Luis Fabiano (Grafite).
Técnico: Dunga.
Cartões amarelos: Duda, Tiago, Pepe, Coentrão (Portugal); Luis Fabiano, Juan, Felipe Melo (Brasil).
Estádio: Moses Mabhida (em Durban).
Data: 25/06/2010.
Árbitro: Benito Archundia (MEX).
Subscribe

Brazil World Cup Team Blog RSS Feed

Share
blog comments powered by Disqus