Brazil settle for silver once again, lose to Mexico 2-1
August 11th, 2012 | by: Black Matt |

Comments Off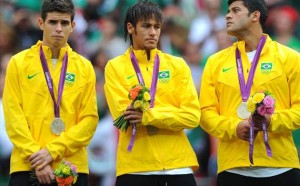 A redundant headline, as everyone already knows what happened.
I'm going to hold off writing anything meaningful until tomorrow or Monday, as I've got two other writing projects that take priority this weekend. Mostly because I'm getting paid for them. In short, though, I really don't think you can take much away from this match. I didn't learn anything new from it I didn't already know, and mostly it just confirmed what I already knew but hoped might be different. I still think this team is FAR better than where they were a year ago, but the problem is that where the team is now is where they SHOULD have been twelve months ago. Mano basically wasted an entire year of development, and so instead of getting 4 years to prepare for the World Cup, we basically only have three.
I didn't feel that much after the final whistle blew – mostly impatience. Impatience that the team still had so much more growing to do, impatience at the aforementioned wasted year, impatience at the mindless knee-jerking I knew would be taking place across the internet (though mostly not here, though, thank goodness. This really is the best place to discuss football I've ever come across.) Maybe it's because I had a great day romping around with my two sons, but I don't feel that much disappointment. I found the Copa America defeat last year to be FAR more frustrating than this one.
The only thing that is truly irritating me right now is the thought of the friendly on Wednesday. It's ridiculous that it's basically the same team we just saw. I understand that Mano didn't want to risk damaging the confidence of anyone on the squad by not calling them up, but dammit all, use Wednesday's match as a chance to call up an entirely NEW roster. EXPERIMENT. It's the PERFECT chance to give all the regulars a rest and call up the shamefully ignored, like Diego Alves, Maicon, Dede, Filipe Luis, Fernando Reges, Michel Bastos, Diego and Luis Fabiano. Supplement them with the likes of Fernandinho and Coutinho and that's a great squad to try out, just to see who stands out. There's no chance of offending anyone, that way.
But Mano isn't doing any of that. What a waste.
Anyway, I'll leave you for now with two things to occupy a few minutes of your time. The first is a poll:
The second is a video that I often watch whenever I'm feeling down. Seriously…it always makes me feel better. The music is particularly appropriate after a loss.
See you in a few days. Tchau.
Subscribe

Brazil World Cup Team Blog RSS Feed

Share
Comments are closed