Brazil vs England: The Starting XI, and 7 Questions
February 6th, 2013 | by: Black Matt |

Comments Off
At last. Today the Selecão finally makes its long-awaited return with Luis Filipe Scolari at the helm.
Yesterday Globo and other media outlets released Scolari's starting XI. It was almost exactly what I had anticipated. Here's the lineup:
GK: Julio Cesar
RB: Dani Alves
CB: David Luiz, Dante
LB: Adriano
DM/CM: Ramires, Paulinho
AM: Ronaldinho, Oscar
FW: Neymar, Luis Fabiano
The only thing I got wrong was David Luiz in place of Miranda, as I didn't think Luiz would be fit in time. Otherwise, the only spot I felt up in the air was Fabiano's; I thought it 50-50 between he and Fred.
Understand, I'm not saying my predictions were anything special. I'm willing to bet pretty much everyone here guessed the same thing, as these are all obvious choices. Scolari went out on a limb choosing veterans-in-exile Julio Cesar and Ronaldinho, (sort of), so there was no way he would call them up only to sit them on the bench. Dani Alves, Ramires and Paulinho were shoe-ins; Dante only a little less so. And Neymar, of course, is Neymar. I suppose there was some chance that Lucas or Hulk might start in place of Oscar, but Oscar was too good in 2010 to drop, and anyway you could make a strong argument that he's a more valuable (which is not to necessarily say better) player than either of the alternatives.
So there you have it. Of course, I would have chosen Filipe Luis to start myself, but Adriano is having a fantastic season, so I can't begrudge him his place.
Today Brazil face England. This should be a fascinating match, less because of the opponent and more because of the many questions that need answering. Here are the seven questions I find most pressing, in no particular order.

What Formation Will Scolari Use?
For two articles straight, I've called attention to the fact that there's no one typical Scolari formation. At some point I expect Big Phil to give a three-man defense a try, but to start off with I expect either a 4-2-3-1 or a 4-2-2-2, as illustrated below:
4-2-2-2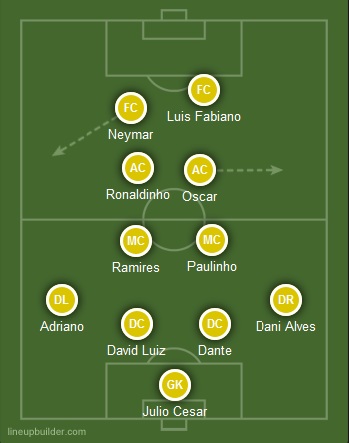 4-2-3-1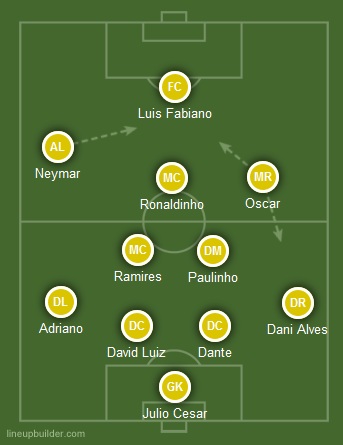 In truth, we may see a hybrid of these two, where Brazil resemble a 4-2-2-2 without the ball and a 4-2-3-1 with it. The 4-2-2-2, of course, hearkens back to Tele Santana, but it's been an ever-present ghost ever since; Parreira's '06 team strongly resembled the 4-2-2-2, and Dunga's '10 team (when Elano and Nilmar played especially) even looked something like it on occasion. The 4-2-2-2 can often be an extremely narrow formation, but it all depends on A) how much the fullbacks push up and B) how mobile Neymar, Ronaldinho and Oscar will be off the ball. Oscar shouldn't have a problem, and while Neymar will move to the left quite often, it's usually merely to receive the ball from the fullbacks rather than to allow them to overlap or to create genuine width himself.
The 4-2-3-1 is probably the most likely formation, and to an extent might make the most sense on paper. But I have two major concerns.
The first relates to Oscar. Oscar likes to move out to the right somewhat anyway, and he's played there at times with Chelsea (though under Di Matteo especially, Oscar and Juan Mata functioned interchangeably.) But I wonder if it's handcuffing our most versatile midfielder, similar to how Hernanes was chained to the right-flank under Menezes. The 4-2-3-1 was a very boxy, rigid formation under Mano. Scolari isn't Mano, but the Brazil national team isn't a club team. Since national teams don't often have the same chemistry as a club does, often times players will be far more conservative in their positioning and movements simply because they don't want to make a mistake or risk confusion. So Oscar stationed on the right could very well make him look a lot more limited than Oscar moving out to the right. I'd hate to see what happened to Hernanes happen to Oscar.
The 2nd concern relates to my next question:
Where to Position Neymar?
It's plain as day by now that Neymar is a better player when he's both more central and higher up the pitch. When Neymar starts off on the left, the touchline often acts as yet another defender, especially against disciplined teams like Mexico, or even Velez Sarsfield. Neymar is best when he has options, keeping the defense off-balance as a result. But when he hugs the wing, Neymar only has two options: cut in and rely on his technique, which is superb but inconsistent, or drive farther down the wing and rely on his pace, which is again superb but hampered by his light frame. Either one can work, but not with any dependable regularity.
Then too, it's no coincidence that Neymar's best run of form in the yellow shirt came once Mano changed from a 4-2-3-1 to a 4-2-4. Neymar started playing higher up and more centrally, and as a result, scored eight goals in his last five matches under Mano. Admittedly the competition wasn't great, but it wasn't great against the likes of South Africa or Romania, either.
So a 4-2-3-1 would be something of a step backwards in terms of Neymar's positioning. For that reason, I'd prefer to see a 4-2-2-2 against England, and trust that Scolari's not ignorant of the importance of width.
Is This the Last Chance for Ronaldinho? No, Seriously, Is It?
Does Ronaldinho have the mobility to play at this level? Can he move intelligently off the ball? Can he shake his man while on it? He didn't against Argentina, Costa Rica, Ghana or Bosnia. Has he regained the ability since joining Atletico Mineiro?
From what I've seen, he hasn't. While he did pull off a couple of near-classic Ronaldinho runs last season, by and large he was a player who received the ball in the middle of the pitch, took out the first defender with a clever touch, then passed to the other attacking players. And that's fine…but it's also indicative of the classic, languid playmaker that's become all but extinct in international football.
Ronaldinho's other problem, and even Menezes knew it, was that he didn't seem able to play at the pace of international football. I don't mean pace as in how fast you run, but pace as in how fast you make decisions. All his clever touches and flick-on's came to naught; the defense was prepared for them, and they were often on top of him before he could even attempt them. For all Ronaldinho did last year in Minas Gerais, he was playing in a league notable for its slow pace and deep lines.
I could be wrong. I hope I'm wrong. I'd love to be wrong…but if Ronaldinho has a place on this team, I still see it as a situational player, as described here.
Who Will Partner with Thiago Silva in 2014?
David Luiz has the inside track, for obvious reasons, but the door is open for someone else to seize the job. Dante's got as good a chance as anyone. If there's any one player who desperately needs to play well tomorrow, it's Dante.
As a side note, I'm disappointed that David Luiz recovered in time. Not because I wish him ill, or because I'm writing him off, but because we know what he brings to the table. I really wanted to see what Miranda could do with a full 90 minutes.
Will Scolari Implement Specific Game Plans for Specific Matches?
Mano never, ever, ever did this. EVER. In retrospect, while his instructions to just "go out and play" versus the United States back in 2010 seemed refreshing at the time, it was an ominous portent of the future.
What do I mean by game plan? I mean that I want to see Scolari recognize what the oppositions' weaknesses are and target them. Don't just rely on the players' technique to win the day, but figure out how to maximize their technique by using it where it will be most effective. Heaven knows that if we don't use tactics, our opponents will. Mexico and Honduras both did it when they decided to focus on "roughing up" Oscar and Neymar, denying them the ability to get into the game. Bosnia did it when they relentlessly targeted David Luiz in 1v1 situations. Columbia did it when they saw how uncomfortable Leandro Castan was on the left flank. Mexico did it in the pre-Olympic friendly when they tried to swing the ball quickly from flank to flank, catching both Rafael and Marcelo out of position. South Korea did it when they slowed the tempo down, content to pass the ball around the back and keep possession, knowing we wouldn't press, then spring the attack as soon as Brazil's attention started to waver. (Remember, while South Korea lost, they were denied three probably-legitimate penalty claims.)
Other teams have been doing it against us. It's time for us to return the favor. Find England's heart, Scolari, and rip it out.
Can Julio Cesar Keep His Nerve?
Here's an open letter to Julio Cesar:
"I love you, Julio Cesar. And though you've done practically everything short of shooting Pele in the face to doom your chances of a recall, I'm glad, despite my better judgment, that you've been given one more chance. You're too talented, too experienced, and too in-form to be left out. But dammit, JC, don't screw up. No more howlers. No more mishandled balls. Felipe Melo and Wesley Sneijder are both in Turkey, so you don't need to worry about them. Because, damn, you have been bad. Really, really, really bad. When Mano first called you up, you actually started out well, with a heroic performance against France. Scotland and Netherlands never really troubled you, nor Venezuela. But then Paraguay happened. And Ecuador happened. And Paraguay happened again. Then Germany happened. Then Bosnia happened. True, you've been fighting a lack of fitness for a while, but the biggest problem was your confidence. It seems like you're back to your old self with QPR, but when you put on that yellow shirt, are you strong enough to keep your demons at bay?
I hope you are. But if you're not, then know that your leash is so short, it's really more of an elastic band. This has to be your last chance. Letting in a goal is acceptable; letting in a howler is not. Diego Alves is on the bench, and he's done more to earn a starting berth since 2010 then you have.
Good luck.
Respectfully,
Black Matt."
Will There Be Width?
I'm tired of talking about this. Don't make me do it anymore.
I'll leave you with this:
Dinho's freekick was great, but I miss this kind of thing more.
And finally….
This is actually my favorite Brazil goal of all time.
Subscribe

Brazil World Cup Team Blog RSS Feed

Share
Comments are closed