Does Mano Pay Attention to Club Form at all?
February 14th, 2012 | by: Black Matt |

Comments Off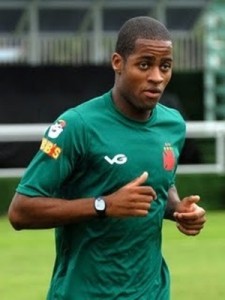 Disclaimer: this is not intended to be a negative post.  I'm actually really happy with most of what I have to say.  But the news that follows doesn't alleviate many of my longstanding concerns.
—-
Mano released his squad list for the Bosnia & Herzegovina friendly earlier today.  There aren't really any surprises.  The list is as follows:
Goalkeepers: Julio César (Internazionale), Diego Alves (Valencia), Rafael (Santos)
Defenders: Luisão (Benfica), David Luiz (Chelsea), Thiago Silva (Milan), Dedé (Vasco)
Full-backs: Adriano (Barcelona), Alex Sandro (Benfica), Daniel Alves (Barcelona), Marcelo (Real Madrid)
Midfielders: Elias (Sporting Lisbon), Fernandinho (Shakhtar), Ganso (Santos), Hernanes (Lazio), Danilo (Porto), Sandro (Tottenham), Ronaldinho (Flamengo)
Forwards: Neymar (Santos), Hulk (Porto), Jonas (Valencia), Leandro Damião (Internacional), Lucas Moura (São Paulo).
It's really not a bad list – maybe the best yet.  For the first time, we could finally see the dream front line of Neymar, Hulk and Leandro Damiao all starting.  We saw them briefly against Ghana in the second half, but that was all.  The big question will be who slots in behind them.  Will it be Hernanes, as many of us hope?  Will it be Ganso, undoubtedly Mano's sentimental choice?  Or will it be Ronaldinho?
At the very least, it seems clear that Mano has learned his lessons from the Gabon and Egypt matches, as pretty much everyone who performed well against those two teams – Hulk, Hernanes, Jonas, Sandro, Fernandinho, Alex Sandro – have been retained, while those who underperformed, like Rafael and Bruno Cesar, have been dropped.  You have to feel at this point that Fernandinho's a lock to start unless his form drops dramatically, while Sandro seems to be Mano's preference at least until Lucas Leiva returns.  Really, a Sandro-Fernandinho shouldn't engender any complaints from followers of the Selecão. While some of us here may want Anderson in place of Fernandinho, and Luis Gustavo or Fernando Reges in place of Sandro, the Tottenham man and the Shakthar midfielder complement each other beautifully, at least on paper.  Sandro is a tough, athletic (and surprisingly intelligent) defender, while Fernandinho, while he'll never be mistaken for Gerson, can help distribute the ball out of the back with simple elegance.
The backline doesn't look too bad, either.  There aren't any surprises here.  Thiago Silva is the only man besides Neymar who can be deemed untouchable, while David Luiz, warts for Chelsea aside, has generally been a very able partner.  Dani Alves would probably have to shoot someone in the face to get dropped now, and it's exciting to see Marcelo again.
The only thing that truly surprised me was the list of goalkeepers – specifically that Jefferson has been dropped in favor of Rafael.  I don't disagree with the decision at all, but it's still a surprise…and the Botafogo shot-stopper must be wondering what he did wrong.
So what will the starting lineup be?  I will be very surprised if it's not the following: Julio Cesar or Diego Alves in goal, Dani Alves at RB, Silva and Luiz at CB, Marcelo at LB, Sandro and Fernandinho as the DM/CM's, Neymar at LW, Ronaldinho as the AM, Hulk as the RW, and Damiao as the CF.
If so, my only major complaint would be Ronaldinho in place of Hernanes, but you can't have everything in life.
We better move onto the negatives now.  The usual exclusions are obvious.  Some here are going to cry Fernando Reges's name; others will lament the absence of Diego.  I'm still pining for Filipe Luis, and it still kills me to see Dani Alves there while a relatively in-form Maicon is left to languish in the wilderness.
But the worst exclusion, for me, anyway, is Oscar.
Why Oscar?  Tell me where I should stop.
1)  He's barely 20 years old and already he's one of the premier midfielders in Brazil
2)  He's in spectacular form for Internacional of late, even in the midst of a legal battle with Sao Paulo
3)  He's  unquestionably better than Ronaldinho is at this point, and more reliable than Ganso
4)  He's young, with tons of potential, and the only way that potential can be tapped is if it's given experience
5)  He's going to be on the Olympic team in a few months, and he might well start.  Why not give him some warm-up opportunities now?
Did I mention that his form has been outstanding lately?  On the other hand, what has Ronaldinho done besides gain weight again, miss training, get his coach fired, and spend too much time in the bathroom?
This leads me to the point of this article.  Even though Mano's selections have generally (if slowly) gotten better, the question still has to be asked:
What criteria is Mano using to choose these players?
Leave aside the conspiracy theories for a moment – his connections with certain agents, his tenure at Corinthians, or the fact that he's probably being blackmailed by Elias.  What's Mano looking at when he sits down and writes his list of names?
I can tell you what he's almost definitely not looking at: club form.
Want proof?  Let's cover all the evidence point by point, starting with the present and moving backwards.  Note that I am not saying I DISAGREE with all of these points.  For example, even when Fred was on fire for Fluminense, I still wouldn't have given him a call-up.
Oscar is in good form for Internacional.  Excluded.
Ronaldinho in poor form for Flamengo.  Included.
Damiao not scoring goals for Internacional.  Included.
End of last season, Fred in frightening goalscoring form.  Excluded.
Hulk has been injured lately and hasn't played.  Included.
Last year, when Hulk was banging in goals and assists every match, he was excluded for a long, long time.
In 2010-11, Hernanes was in superb form for Lazio.  Excluded.
Late 2011, Hernanes was in poor form for Lazio.  Included.  (Luckily, Hernanes has once again recaptured some of his form.)
September/October of 2011, Anderson was in superb form for Manchester United.  Excluded.
2010, most of 2011, Marcelo was in great form for Madrid.  Excluded until the Ghana match.  Lately, he's been injured or has been riding the bench.  Now he's included.
I could go on, and on, and on.  We're just barely scratching the surface here.  The point is, Mano has a repeated habit of ignoring players when they are in form, and then calling them up even when they are out of form.  Why is this?
Because Mano does not, and must not, be paying real attention to the clubs.  When he finally calls up people who are long overdue, it's because public pressure has demanded that he do so, not because he has a strong tactical reason.  That's why, even though I'm happy to see a lot of the names in this squad, I worry that they've still often been picked for the wrong reasons.  Not because Mano necessarily believes in them, but because he feels he has to.  Luckily, his habit of retaining players until it's long past obvious that they must be dropped also works in our favor here, as it means players like Hulk, Hernanes, Diego Alves and others will probably be retained, even if they're not in the best form.  But the concern is still there.  If he's picking players solely because of public pressure, and then retaining them because that's just what he does, then he'll never learn how to use those players properly.  Case in point: Hernanes.  Hernanes plays as a CAM for Lazio.  For Brazil, Mano has deployed him on the left wing, and on the right.  He's even put him back in defense.  But never in the center.  It's to Hernanes' credit that he's been able to adjust.
An important thing to remember is that it's not wrong for a national team coach to place equal, or even greater emphasis, on international form over club form.  There are a couple reasons why this is actually desirable.  One is that you cannot be constantly shifting your roster based on the ebb and flow of club form.  Your best players are not all going to be in form at the same time.  If Mano were to rely too heavily on club form, there would never be any stability, cohesion, or chemistry.
Another reason why it's important is because some players, even if they are struggling for their clubs, can still perform well for their national teams.  The single best example I can think of is Miroslav Klose.  He was a disaster for Bayern Munich for two years leading up to the World Cup, but he always was able to contribute for Germany.  Joachim Lowe recognized this, rewarded him appropriately, and four goals in South Africa was the result.  It's a big reason why Robinho has been a mainstay for as long as he has.  (And it's one reason why I think that even veterans like Lucio and Maicon have something to offer, even when their club is sinking.)
But Mano seems to have taken this to the extreme, in that he only thinks about the last friendly match Brazil has played when considering who to choose.  How else can you explain Ronaldinho's call up?  No doubt the image in his mind, when he thinks of Ronaldinho, is not in a Flamengo jersey, but in a yellow shirt, scoring the freekick against Mexico.  (Nevermind that Dinho was useless up until that point.)  This is especially dangerous when there are long periods of time between friendlies.  You have to use club form as a way to gauge who should be called up.  Not because you want to select a squad based solely of who is on form or not, but because you want to see which players have clearly improved since you observed them last, and which have clearly regressed. Oscar, for instance, has clearly improved.  Ronaldinho has clearly regressed.  On the eve of the Copa America, Hulk had clearly improved beyond what anyone had thought possible.  Pato, on the other hand, was in a downward slide.
So even though this is an improved selection by Mano, it still does not alleviate my fear that, by the time 2014 rolls around, Mano again will be picking names based on antiquated, outdated opinions that do not reflect what is going on in present reality.
***
All of that can't be helped, now.  All that's left is to choose how to organize this squad into one that's not only the most capable of victory, but one that's most capable of improvement.
This is what I would suggest: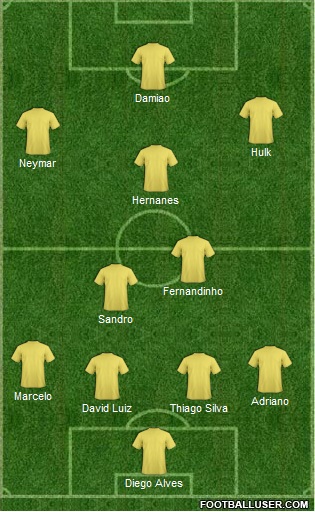 Nothing really revolutionary here.  I'm also quite comfortable, and interested, to see Dede start in place of Luiz.  Frankly, Luisao would be a fine option as well.  Some may question my exclusion of Dani Alves, but he can't be allowed to sleepwalk his way into the starting XI anymore.
While I would most prefer to see Hernanes start, as I think he would create the best linkup not only with Hulk, but with Fernandinho, it has to be said that if Mano goes with Ganso, it could create some interesting possibilities.  I would actually expect Ganso to slot in far better with this lineup than he did in the Copa America.  Injury concerns aside, Ganso's big problem in Argentina was that he was forced way too high up the pitch, and then was crowded out not only from the top by a deep-dropping Pato, but inside by Robinho and the manic Dani Alves.
In this lineup, though, assuming that Damiao and Hulk start, Ganso would have an easier time.  Damiao is not going to drop as deep as Pato tried to, giving more space in that direction; Hulk does like to cut in, but unlike Robinho, he'll do so farther up the pitch and closer to the box.  And Dani Alves hasn't been quite so reckless ever since the Copa America in constantly abandoning the flank.  In addition, I would expect Ganso to combine far better with Fernandinho than he did with Lucas Leiva or Ramires.  It would also be very interesting to see Damiao and Ganso play together.  It's never happened before, but you could see the two of them working beautifully together.
Ultimately, Ganso is not as versatile or dynamic as Hernanes, and he's not as deserving as Oscar, but if Mano chooses to go this route, you could see the tactical advantages.
Let's just pray that Mano doesn't go with this: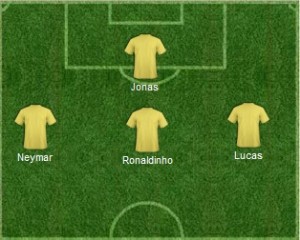 That's no knock on the fabulously eager Lucas.  It's just not a lineup that works.  Whatever happens, I'm thrilled to watch Brazilian football again.  It's been far, far too long.
Subscribe

Brazil World Cup Team Blog RSS Feed

Share
Comments are closed