Fernandinho: The Textbook Central Midfielder
November 14th, 2012 | by: Black Matt |

Comments Off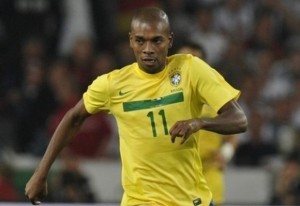 Tomorrow Brazil play against Columbia in what some say is there 1,000th match. (You'd think this would mean it would be played in Brazil, but no go; it's actually in the States.) I'm more excited about tomorrow's match than any in a long time. Columbia is currently third in South American qualifying, a point behind the surprising Ecuadorians; they're playing solid, well-rounded football under José Pekerman, and they've got one of the greatest center forwards in the world in Radamel Falcao. Tomorrow should be a really good test – it'll be fascinating to see how Mano's experimental 4-2-4 lineup works out. (I think calling it a 4-2-4-0 is exceedingly silly. No one called the '58 team a 4-2-4-0 side, even though they only had one out and out striker in Vava, two wingers in Zagallo and Garrincha, and Pele as a trequartista of sorts. The point is, that was a team that had four attackers in front of two definite midfielders. I'd consider the Neymar-Kaka-Oscar-Hulk/Lucas quartet to be roughly similar. The only definite midfielder in that group is Oscar. But I digress.)
Yet as much as I'm looking forward to tomorrow, I think it's worth taking a few minutes to talk about Fernandinho.
Of all of Mano's exclusions, Fernandinho's is the most baffling. Not because he's the best player left out of the squad, or because we're thin at his position. But because he played really well when Mano called him up. And not just after one game either. He was key against Ghana, the man of the match (in my opinion) against Mexico, and stellar against Gabon, Egypt and Bosnia. I really thought he had cemented a place in the side. Then the Olympics rolled around, Mano called up Romulo, and Paulinho after him, and has apparently forgotten all about the dynamic midfielder currently plying his trade in Ukraine. (Also home, it's worth saying, to the immortal Giuliano.)
This is a major oversight, and the more I think about it, perhaps the least defensible.
At this point I might well state two things:
1. I love, love, love deep-lying playmakers. So much so that if I were to name the 5 Brazilians I find most attractive to watch (historically speaking) you would find two such players on there: Gerson and Falcao. I love watching Gerson send those clipped, diagonal passes up the pitch for Jairzinho to latch on to, and I love watching Falcao storm from box to box with his relentless pass-and-move game. Fernandinho isn't on either man's level, but he combines some of the best attributes of both.
2. Ever since Dunga resigned, I've been vocal in my opinion that the team's biggest need was playmaking out of the back. (Originally I wanted Hernanes called up not as a #10, but as an enganche, to borrow the Argentine phrase.) I think Brazil needs and has long needed someone who can start attacks from deep positions so that we don't have to rely on full-backs to advance the ball. For the most part, that hasn't happened. The Ramires/Lucas Leiva partnership was woeful in this regard. The Romulo/Sandro partnership wasn't much better, since Romulo is a tidy player but no playmaker. And the recent Ramires/Paulinho partnership is based far more on athleticism and drive than on passing.
But where all those other players, talented as they are, fall short, Fernandinho excels. Perhaps it seems like I overstate his abilities, but I don't think so. I admit, certainly, that Fernandinho doesn't quite have the artistic genius of a Pirlo, or the rapid-fire mind of a Xavi; and he's not known for the Hollywood passes of a Steven Gerrard. His skill-set is actually similar to Oscar's. He's extremely versatile. He's a master of the fundamentals. And, like Oscar, he has a sneaky sort of athleticism not immediately obvious at a glance.
That last line might sum up well why Fernandinho hasn't caught on with a lot of other bloggers around the web. There's nothing "immediately obvious" about him. He has no one, single defining trait. And a lot of what he does is subtle – his playmaking isn't always about setting up the goal, but setting up the move that sets up the goal. And his defense isn't about flying tackles or whirlwind challenges, but about good positioning, good footwork, and good anticipation. Go watch a Shakhtar match sometime, and when you do, pay constant attention to Fernandinho. The more you pay attention, the more you will start to sit up and take notice. That's what I did after the Ghana match last year. I loaded up a replay, and started seeing things I didn't notice at first. By the end of the match, I was intrigued. When Mexico rolled around, I made sure to pay attention, and I was hooked.
Since then I've tried to watch a lot of Shakhtar matches, mostly in the Champion's League. Shakhtar is a great, great team that play exactly the kind of football I love. They keep possession, but not ad nauseum; they're a fast, attacking team, with all of their players looking to get forward, spreading play out to the wings, creating quick passing triangles to control the midfield. Fernandinho is at the heart of all of this, something he demonstrated brilliantly in both legs against Chelsea. It's his play in the 2nd leg that I want to highlight in this article, which will hopefully prove my assertion that Fernandinho is the textbook central midfielder.
I didn't get to watch these matches live, but I downloaded them and watched them after the fact. Both are full of great football. Due to time constraints, I'm going to focus solely on the 2nd leg, but just to whet your appetite, here's Fernandinho's finest moment from the first leg:
After a meaty challenge to win the ball off Eden Hazard, Fernandinho races away with Willian before slamming it home with an emphatic finish. Pay attention to the words "with Willian" because you are about to hear them a lot.
Fernandinho vs Chelsea, 2nd leg
Shakhtar opened up in a familiar-looking formation, the 4-2-3-1. For context, here it is:
We'll skip ahead to the 7th minute, when Fernandinho puts in a muscular tackle near the right flank on Ramires. These two would be engaged in an unspoken duel for the entire match, and in almost every altercation, Fernandinho would come away the winner. (Each man had already put in their fair share of crunching tackles on the other in the 1st leg.) Here, Fernandinho muscles Ramires off the ball, then coolly lays off for Kucher.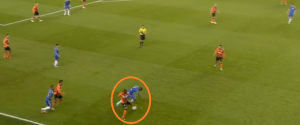 Seconds later, Ramires would try to return the favor, sending Fernandinho to the ground, but not before he squeezes off a pass to Willian to begin the break.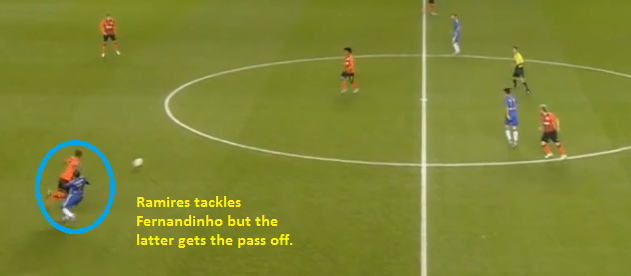 The point: Fernandinho is a very capable of defender, who works hard and is strong for his build. He's also adept at passing under pressure, and what's more, passing intelligently. He doesn't boot the ball clear or just pass back to the centerbacks. He finds the angles open to him and exploits them.
Chelsea coach Di Matteo was clearly conscious of the threat Fernandinho posed, so throughout the match you could see Ramires advancing outside his usual zone to mark Fernandinho whenever Shakhtar was in posession.

Fernandinho, on the other hand, did not seem to be under any such instruction.
In the 9th minute, Shakhtar found themselves down an early goal thanks to a botched clearance by their keeper. It would be the Fernandinho-Willian partnership that would level things. Here, Fernandinho drifts forward as is his wont, collects the ball, evades Ramires, drives between two Chelsea players to the byline, then cuts back to Willian who had previously driven in from the left. Willian's finish was simple but effective.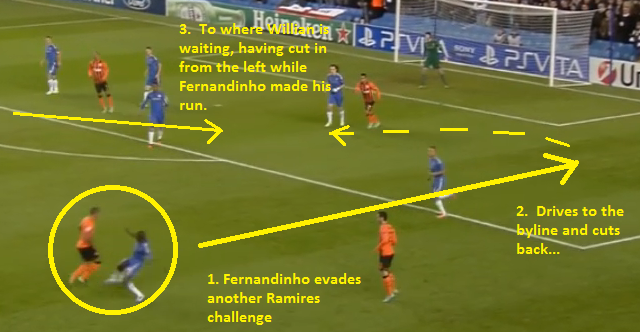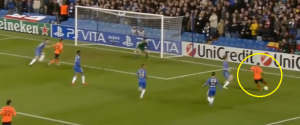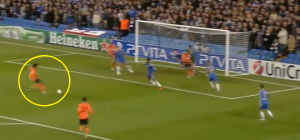 The point: You didn't see this much during his Brazil call-ups, but you see it a lot for Shakhtar – much like Falcao, Fernandinho is an underrated box-to-box player with surprising acceleration. He can create for teammates both by passing and by dribbling. (I shouldn't let myself get carried away, though; he's good but he's not Falcao good.)
This was the moment in the match that the commentators started to wake up to Fernandinho. They would spend the next 80+ minutes absolutely gushing about him, and for good reason.
In the 10th minute, Fernandinho shows the vision and accuracy to build-up an attack from a deep position, picking out Willian and passing between three Chelsea players, including Oscar and Ramires.


Fernandinho has a great rapport with Willian, who had a very good match himself. You wonder if he could replicate that with Neymar, who, like Willian, also likes to drift into the center.
14th minute. I'm sorry, but Fernandinho is brilliant. Again he drives between two Chelsea players, evades challenges, then lays off to Willian just before being brought down. Commentator: "Fernandinho…what a good player he looks."

15th minute. Fernandinho nods Juan Mata off the ball so that Willian can begin the counter-attack. He's everywhere, attacking, defending, patrolling the midfield…
Same minute. Fernandinho draws again from his arsenal of calm, accurate passes. Here he drifts well ahead and to the left flank to calmly pick out Willian. But the afro-adorned Brazilian is surrounded and plays it back to Rat. Rat passes to Fernandinho, who tests Cech from distance, forcing him to palm it away. Superb effort.

In the 18th minute, more playmaking from the back. Fernandinho sends a great, probing ball up the middle of the pitch to Mkhitaryan, only for the Armenian's first touch to let him down.

19th minute, Fernandinho spoils some nice interplay between Oscar and Mata and then once again lays it ahead to Willian to start the break.
In the 31st minute, Fernandinho gallops forward again, threading a short through-ball to Luiz Adriano. Adriano backheels to Alex Texeira who flashes a shot narrowly wide.
33rd minute. Having continually displayed both his dribbling and his passing prowess, Fernandinho decides it's time to open up his defensive bag of tricks, stopping Hazard in his tracks, then tackling the ball away. Again, Willian is the beneficiary. You have to wonder if Willian just starts drifting in every time he sees Fernandinho near the ball, knowing it will come to him.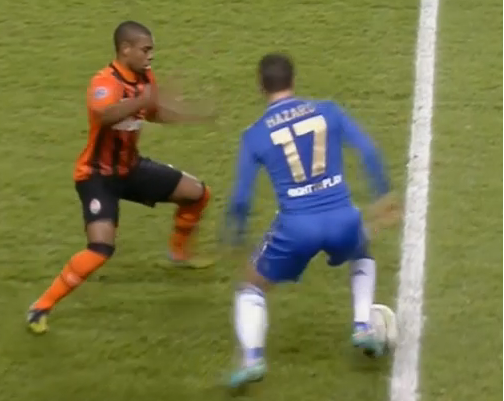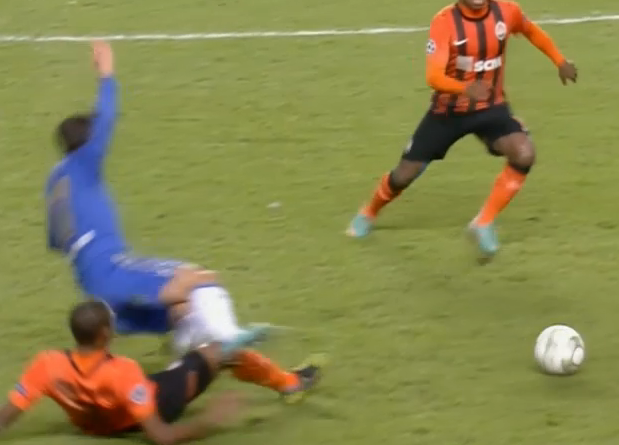 A few minutes later, Ramires and Fernandinho take turns getting the better of each other. First, Ramires casually dinks over Fernandinho's head to start a Torres-botched counter; then Fernandinho blocks Ramires cold to start an attack of his own.
In the 37th minute, the spirit of Gerson makes an appearance, in the form of a super cross-pitch pass to Rat, who one-times a cross over to Adriano.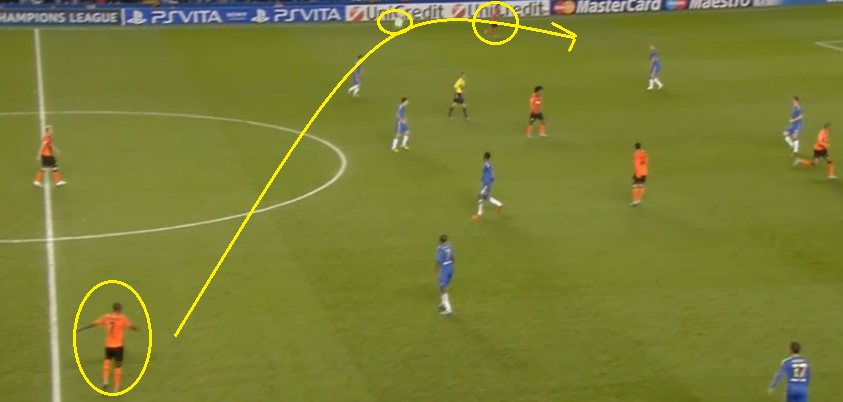 The Point: Fernandinho isn't just capable of short diagonal passes to begin counters (something he did to great effect for Brazil) but he can also pull off the long-ball when he needs to. One thing the commentators often noted was that Shakhtar would spend several minutes exchanging short passes with each other before suddenly pulling out the long-ball, catching Chelsea by surprise. It's an excellent way to keep the defense honest and force them to stretch.
We Interrupt This Program to Bring You a Message from Oscar
Now back to our regularly scheduled programming
Finding themselves unfortunately – and undeservedly – down 2-1, Shakhtar quickly right the ship. This is probably my favorite Fernandinho moment of the match. I'll let the pictures and the video do the talking.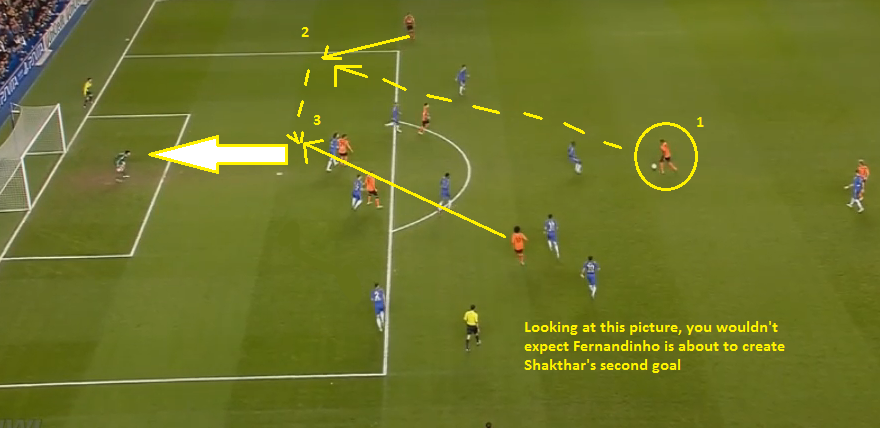 The point: Whether it's driving through the heart of a defense, calmly maintaining possession and building the attack from deep positions, patrolling the midfield or threading perfect through-balls into the box, Fernandinho can do it all. While his performances against Chelsea shouldn't necessarily be taken as his baseline, nothing he displayed in this match was out of character. It's Fernandinho on his A-game, yes, but functionally and stylistically, it's typical Fernandinho: a subtle blend of technique, vision, and underrated athleticism.
In short, Fernandinho is the textbook central midfielder. And he's exactly what Brazil needs, and has needed, for a long time.
—–
You can use this thread for match-calling tomorrow. It's midnight and I have to wake up in 5 hours, so I'm out. Tchau.
Subscribe

Brazil World Cup Team Blog RSS Feed

Share
Comments are closed