Neymar: His role, positioning, and other concerns
March 12th, 2013 | by: Black Matt |

Comments Off
Let's jump right into it. Neymar's last performance for the national team was extremely maligned in both the Brazilian and English medias. Some of the criticism is justified, some of it less so. I went back and watched in detail every single one of Neymar's possessions from that match. I also went back and studied Neymar's possessions versus Columbia, plus a few scattered matches where I skimmed the replay more than studied it in-depth.
A few things stood out to me from these performances.
1. Neymar isn't nearly as selfish as he's often made out to be. In the England game especially, Neymar was, if anything, not selfish enough. He actually spread the ball very nicely and willingly, and the brightest spot in many of Brazil's more promising build-ups. In this area of the match, the letdown wasn't Neymar but his teammates. He got VERY little help in the midfield, in the sense that, save Oscar, his compatriots DIDN'T MOVE. There was so little movement off the ball, it was staggering. If you compare Brazil's movement to England's, the disparity in quality is staggering. England were constantly moving diagonally away from the dribbler, into open areas to create passing angles. They were allowed to due to rubbery opposition, but still – England was making a fool of Brazil using Brazil's own game.
Closer to the box, most of Neymar's best moves were undone either by poor first touches from the likes of Oscar or poor decision-making from Fred. But all-in-all, Neymar was one of the few bright spots in Brazil's otherwise labored build-ups. Stagnant movement and slow ball-tempo were one of the unfortunate hallmarks of Mano's tenure; if Scolari doesn't fix this problem, Brazil will not win the 2014 World Cup. This is the single biggest issue Scolari faces, without exception.
2. There's one aspect of Neymar's passing, however, that consistently lets him down. The issue is the time it takes to release the ball. Neymar misses many, many opportunities to feed his teammates in dangerous situations, especially in wide positions, because he takes just a second too long to pass. But this problem extends to far more than his passing, as we'll see in a few moments.
3. Neymar's positioning – and his role with the team – needs to be addressed and determined. Because right now, neither is certain, and it's hurting his own performances.
Neymar's role – Scorer
What is Neymar's role for Brazil? Is it to score goals, first and foremost? If so, the bare statistics show he's doing a good job of it. He currently has 17 goals in his first 27 caps, a fantastic scoring rate that easily exceed what Messi and Cristiano Ronaldo did in their first 27 caps for their countries. (And when I include Messi's statistics, I'm LEAVING OUT his first 2 years on the team in '05 and '06, as it wasn't until '07 that he became a permanent starter.) Critics of Neymar will point out he's only scored twice against teams in the FIFA Top Ten rankings, opposite Germany and Columbia. On the other hand, the only other Top 10 teams he's played so far are Holland, Argentina (twice) and England. That's two goals in six matches, which isn't a horrible number when you consider that Cristiano Ronaldo scored only two goals against Top-10 countries in his first six YEARS for Portugal.
If you believe that Neymar's biggest role is to score goals, his output is not a problem thus far in his career. His first problem, so far as this particular role is concerned, is his wastefulness. If he converted simply 25% more on sitters and 1v1 opportunities, he'd be pushing 30 goals right now, a staggering number. Mano Menezes would probably still have his job. Neymar's finishing seems, if anything, to have regressed over the past year or so. Under most circumstances, I'd say his major error is that he too often tries to go for power instead of placement.
Against England, though, Neymar's awful miss in the 1st half was more a matter of misjudging the ball. Oscar's cross came in fast and close to the keeper; Neymar clearly seemed to think he had less time than he did, as he dived for the ball feet first. This, combined with the ball's bounce, caused it to sky over the bar. If Neymar had simply kept his feet and taken his time, it almost certainly would have ended in the back of the net.
If we keep with the idea that Neymar's role is to score goals, his second problem is his positioning. To illustrate, I give you this graphic: Neymar's position every time he received the ball against England.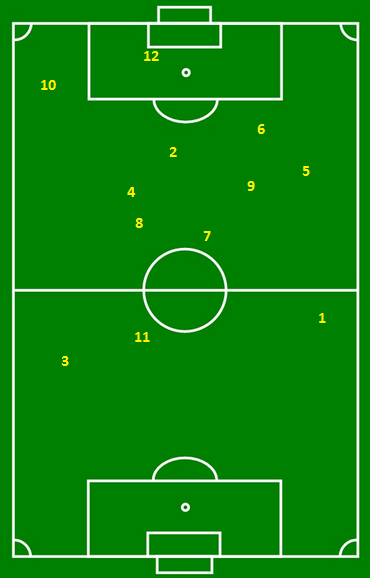 This is Neymar's positioning in the 1st half. Scolari trotted out a 4-3-2-1 Christmas tree formation in the 1st half, and as a result, Neymar played in a relatively free role. More importantly than that freedom was Neymar's relative narrowness; he stayed mostly confined to the middle, neglecting the wings, especially his favored left.
His miss aside, Neymar did not have a terrible first half, offensively speaking. (When it came to tracking back, he was nonexistent.) If you wanted to really criticize, you could say that Neymar wasn't aggressive enough, which is true. On the other hand, this was also Neymar at his least individualistic. Here's a breakdown of his every possession, corresponding to the numbers in the graphic:
1. Neymar's first touch of the game was a fantastic one. He played a superb 1-2 with Oscar, then raced down the touchline, somehow managing to keep the ball in play. Two England defenders closed in, so Neymar adeptly slid a horizontal ball to Ronaldinho and continued his run. Dinho's return-through ball had too much weight on it, and slid out. A bright start.
2. His 2nd possession was to receive a long-ball over the top from Oscar. He brought the ball down with his thigh just shy of the box, but was quickly muscled off by a defender.
3. Neymar received ball deep in his own half and promptly raced forward, cutting inside and drawing the attention of three defenders before sliding a ball to Oscar on his right. Oscar saw an opening and took a shot, but his attempt went over the bar. A shame, as Fabiano was open in space on his right.
4. Neymar, coming back from an offside position, collects a loose ball and dribbles forward into the box, 1v1 vs. Cahill. Here his lack of aggressiveness comes into play; instead of trying to beat Cahill, he settles for a shot around him, which is blocked. We'll come back to this play later.
5. Neymar plays a 1-2 with Ronaldinho, before…
6. …trying and failing to volley a lay-off to Fabiano on the edge of the box.
7. A horizontal run in the middle of the pitch, then a simple lay-off to Dinho.
8. Attempts another 1-2 with Dinho, but is this time ignored.
9. Crowded out, passes back to Paulinho. He was never going to do anything from here anyway.
10. Another long-ball over the top, but he can't reach it enough to bring it down.
11. A fantastic turn in his own half sets him free, but he takes too long to decide what to do and is crowded out of bounds. We'll come back to this one, too.
12. Missed tap-in. We've already covered this.
13. Neymar receives the ball right on the left flank, in his own half, and is immediately surrounded by two whitecoats. Still, he manages to get off a superb backheel to Adriano, who then bombs forward.
Here's the problem with Neymar's positioning in the context of a goal-scoring role. The vast majority of Neymar's touches took place in the midfield. 9 of his 13 touches took place far away from goal where he simply had less space and more defenders to deal with. It's fine for a forward – if that's what we're considering Neymar – to drop deep on occasion. Romario was superb at this; he would linger near the opponent's box for long stretches, but whenever he chose to drop deep, it was to great effect. Why? Because he'd end up dragging his marker with him, and at the same time, his technique on the ball allowed him to create for his teammates who would surge ahead. The key thing here, though, was that Romario didn't overdo it. Instead of allowing his opponent to grow accustomed to him dropping deep, he picked his spots and unleashed his movement almost as a secret weapon. But with Neymar, constantly dropping deep merely accustoms the entire opposition to playing against him. It also means there's less a chance to get him the ball in space, in 1v1 situations where he's best.
To put it simply, Neymar can do nice things for your team in the midfield…but scoring goals ain't one of them. Here's a depiction of the problem: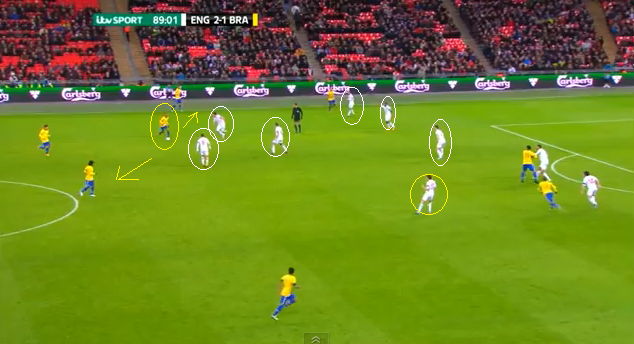 Even Ronaldo didn't have much success going on blazing solo runs when wearing his national colors. Instead, Ronaldo's own instincts for dropping deep were best used like this:
0:20 second mark

Keep in mind where most of Neymar's highlights have come from, as well. The majority of his goals and assists have come when receiving the ball on the edge of the box. Whether it's a quick move like his goals against Scotland or Iraq, or a good first touch and a surprise shot like against Germany, Neymar has had some devastatingly effective moments in the final third. But those moments are far fewer and far less devastating in the midfield.
Now let's look at his positioning in the 2nd half. I've divided up the pitch into 3rds to help illustrate the point: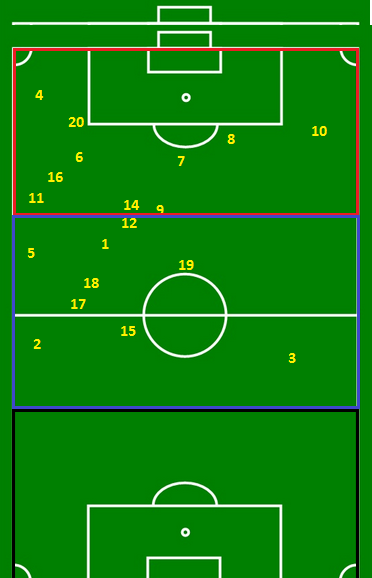 This is 4-2-3-1 Neymar – almost everything on the left side, and too deep to boot. Watching the match again reaffirmed how much I hate seeing Neymar confined to the left wing. You get all the problems of playing Neymar too much in the midfield, plus, handcuffing him to the touchline deprives him of space, since the line basically acts as an extra defender. 4-2-3-1 Neymar too often goes nowhere.
When I watched this match live, I initially thought Neymar played a better 2nd half than he did the 1st. But he didn't. He got more touches, but I confused more touches with better play. Neymar WAS a bit more aggressive in the 2nd half, but probably had fewer moments of quality.
1. Again, Neymar started out brightly, running forward with the ball, juking his defender, then sliding a pass to the overlapping Oscar inside the box. The Chelsea man failed to react quickly enough with the ball, however, and his dribble was blocked.
2. Nothing of note to say here
3. Receives the ball deep, dribbles forward, evades a defender, then passes left to Oscar
4. Tracks down a long ball in the far-left corner and draws 2 defenders. In a sense, he takes too long with the ball here, allowing the defense to get set, but he salvages things by picking out a teammate (can't tell who) who arrives unmarked inside the box. But the unnamed teammate's touch is abysmal, and the chance is lost.
5. Nothing of note
6. Receives the ball, finally in a semi-dangerous position, and jukes his defender to get off only his 2nd shot of the match, not counting the botched tap-in. Unfortunately his low skimmer goes straight to the keeper.
7. Heads a long-ball over the top to Fred, who for some reason chips the ball right back to him.
8. Neymar chests the ball down and attempts a Rivaldo. Maybe should have tried to sombrero the defender instead.
9. Sends a nice diagonal long-ball over the top to Dani Alves, but Dani loses it out of bounds.
10. After a broke corner, Neymar receives the ball and dribbles rather aimlessly forward.
11. Cuts in from the left and passes ahead to Lucas, but Lucas' touch is poor
12. Loses footing
13. Nothing of note to say
14. Dribbles through the heart of the defense and passes to Fred; Fred tries to chip the ball over to Oscar but it's out of reach
15. Nothing of note to say
16. Gathers the ball on the left wing, drives forward, then attempts to center the ball to Fred. But instead of moving in position to get it, Fred waits in the box, hoping for an aerial cross to his head.
17. Seem to have lost my notes for this one
18. This one too
19. And this one
20. Final chance of the match. Neymar receives a long-ball over the top and collects just outside the box. He cuts inside and slides a pass over to Fred, who again tries to chip it right back to Neymar but is intercepted. Continuously poor decision-making from Fred.
Scolari needs to take note of where his young prodigy is receiving the ball and decide if that's conducive to his role. If Neymar's job is to score goals, he should be stationed further up the pitch and more centrally, as a true forward. He should also be more judicious about dropping deep. On the other hand, Scolari may decide that Neymar's primary role is to act as a…
Neymar's role – Creator
To me this would be a terrible misuse of Neymar's abilities. Neymar's link-up play isn't bad; in fact it's better than many give him credit for. But it's not really his strength. The main reason why has nothing to do with technique, but more because:
A) Neymar's first instinct is to create for himself rather than for others
B) Neymar is too accustomed to playing in a slower-tempo league
This last one is a huge problem, and it's the single biggest thing that hinders Neymar's link-up play. It also hinders his ability in goal-scoring positions (see #4 and #11 from the first diagram.) Simply put, he takes too long to make decisions. I don't mean that he's slow to execute decisions, but simply that he lingers too long on the ball before actually doing something with it. Now, to be clear, 'too long' in this case doesn't mean he takes ages, but rather that Neymar consistently waits just a second more than he should before either passing, accelerating, or shooting. This delay is costly at international level, because it's all defenders need to recover, close off passing lanes, or tackle.
If you compare Neymar's time on the ball to Jack Wilshere, the difference between the two might seem slight at first. But if you really think about it, it's quite significant. Based on the England match alone, here are the two player's respective averages of time on the ball before accelerating, passing, or shooting:
Neymar: 2.79 seconds
Wilshere: 1.72 seconds
*Please note that these numbers are rough estimates and not exact
It really is noticeable when you compare them side by side. On average, Wilshere acts a full second faster than Neymar. I don't think Wilshere is as talented as Neymar is, but he's better trained. It was the single reason for his standout performance last month: he constantly kept the ball moving by either surging forward immediately or passing instantly.
Now, Wilshere is a center midfielder through-and-through, so his skill-set and instincts are different. Actually, there's no reason why Neymar's time shouldn't be a little bit longer than Wilshere's, since virtuoso forwards should and do spend more time on the ball than a midfielder does. But 2.79 seconds is far too long if Neymar's primary role is to be a creator in the midfield. Even if his role is mainly to be a scorer, Neymar needs to cut down on his decision-making time; again, too long he will linger on the ball before doing something with it, instead of acting instantly and keeping the defender off-balance. His worst habit in the world is to receive the ball, take two or three touches at a gentle, loping speed, and thenaccelerate. It works in Brazil; it does not work well in Europe.
——-
I'm probably not nearly as critical of Neymar as many people are, mainly because I think he's clearly been Brazil's best player for 3 years now. But there are some major issues with his play, mainly having to do with his role, his positioning, and his decision-making. These issues will need to be fixed if Brazil is to stand a chance at the 2014 World Cup.
Subscribe

Brazil World Cup Team Blog RSS Feed

Share
Comments are closed