Retroactively blogging Brazil vs Bosnia: The First Half
March 5th, 2012 | by: Black Matt |

Comments Off
Rather than write a conventional article, I decided to re-watch the Bosnia match and keep a running journal of thoughts as it unfolded.  I've tried to take a lot of screenshots to get the different points across.  Apologies if this makes the loading time of the page increase.  Also, some of the pictures have all this black space at the top, and I'm not sure why.  In any case, let's begin. 
0.25 – Within 25 seconds, Hernanes starts an early pattern of dropping very deep and central to get the ball.  Throughout the match, he worked best when he wasn't confined to the right wing.  I'm sure that Mano noticed this.
0:50 – Fernandinho and Sandro have switched sides from the last match.  Fernandinho playing left side of center-circle, Sandro on the right.  I can't tell if this is significant.
1:30 – Two sloppy passes by both fullbacks, Marcelo and Dani Alves, to cheaply give away possession.
2:02 – Neymar switches to the right wing and all the way back to the center line.  Why did he not do this more often?
<Brazil line>
Already you see Brazil playing an extremely high line with no cover on the wings and acres of space both behind and on either side of the centerbacks.
2:20 – David Luiz plays a diagonal long ball, switching flanks to Dani Alves.  It's a very good pass, and it immediately forces Bosnian's entire defense to shift over.  Alves cuts in and lays off to Sandro.  Neymar is open on the right wing, but Bosnia immediately closes on Sandro, forcing him to pass back to Luiz.  Why did Alves not try to take advantage of Bosnia's shift by storming down the right wing?  When a defense shifts so they are facing a different side of the pitch than before, it's a perfect chance to stretch them out and open up holes in the center.
2:28 – This is what our team will look like when building from the back for the entire night.  Note the two-man defense.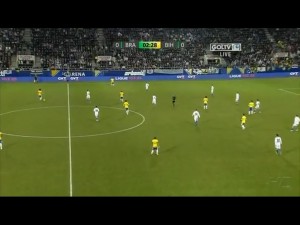 2:35 – Thiago Silva tries a long ball to Damiao, which is cut out.  Ball falls to Bosnia.  Sandro closes down very quickly and prevents a certain 2v2 break for Bosnia.
3:00 – Neymar is still on the right wing.  He and Hernanes attempt a 1-2 exchange, but Neymar's return is cut out.  But Hernanes works extremely hard, chasing down three players to win the ball back for Neymar.  Another 1-2 between the two is more successful.  Neymar is brought down, but shield's the ball brilliantly and allows Dani Alves to collect.  (This is a perfect example of the kind of thing that you just don't catch the first time you watch a match, especially when streaming.)  Alves bursts through the middle and Bosnia, despite having two players around, are slow to collapse in on him.  (Almost the only time in the match they were guilty of this.)  Damiao breaks the offside trap, and Alves could have attempted a reverse thru-ball, but instead he passes into space to the onrushing Marcelo, who slams home.  Beautiful vision from Alves, and a wonderful finish from Marcelo.  Commentator says, "Who says Madrid and Barcelona can't get along?"  Well, Dani Alves pretty much says that, for one.
1-0 Brazil.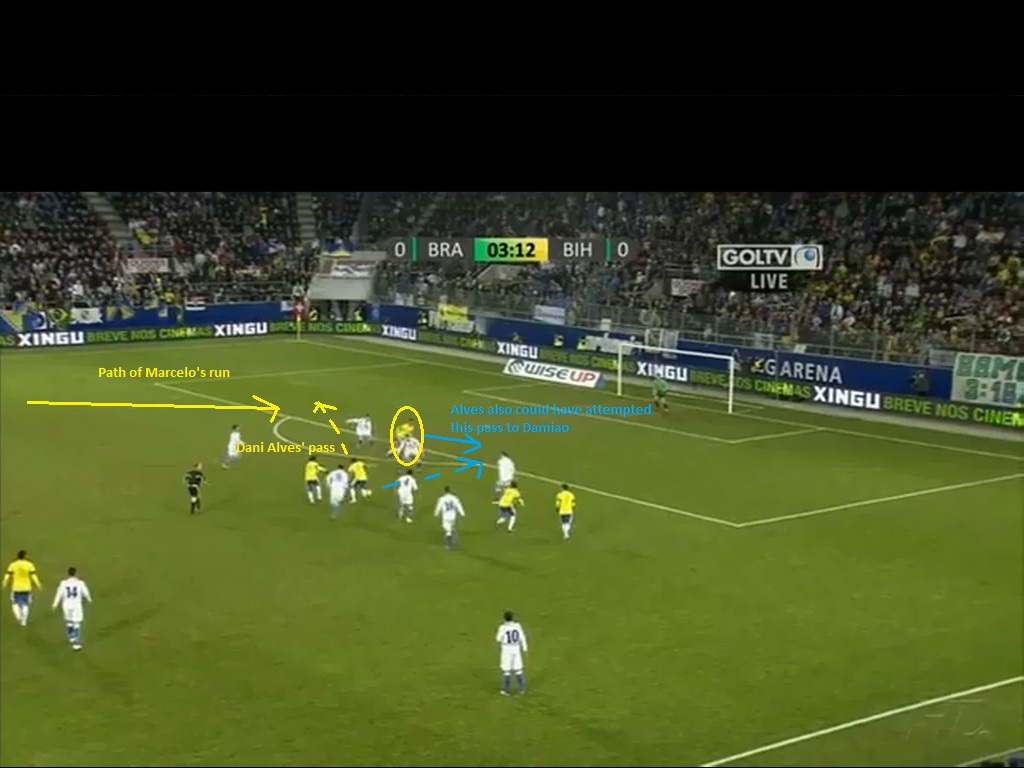 6:00 – Brazil cede possession for basically the next three minutes, but Hernanes and Damiao are the hardest working players on the pitch.  Both repeatedly track back to help and deny Bosnia any meaningful buildup.  Neymar and Ronaldinho stand there and watch admiringly.  "Good job, fellas," they say.  "Keep it up."
7:48 – Damiao is really working hard to press, chasing the centerbacks every time they have the ball, now coming all the way back to the Brazil edge of the center circle to poke the ball away from Bosnia.   The ball falls to Neymar, who has moved back to the left.  Neymar immediately takes off, outstripping two Bosnians with one brilliant touch.  He makes it almost to the goal line before being brought down.  As Neymar is on the ground, someone in the crowd throws a cigarette lighter at him.
9:07 – Ronaldinho wastes the freekick.  He tries to float it to the back post, but probably should have gone for more power.
10:41 – Neymar, Hernanes and Dani Alves form a lovely passing triangle with some neat interplay, but it breaks down on the edge of the box.  Look at the picture below.  Notice anything wrong?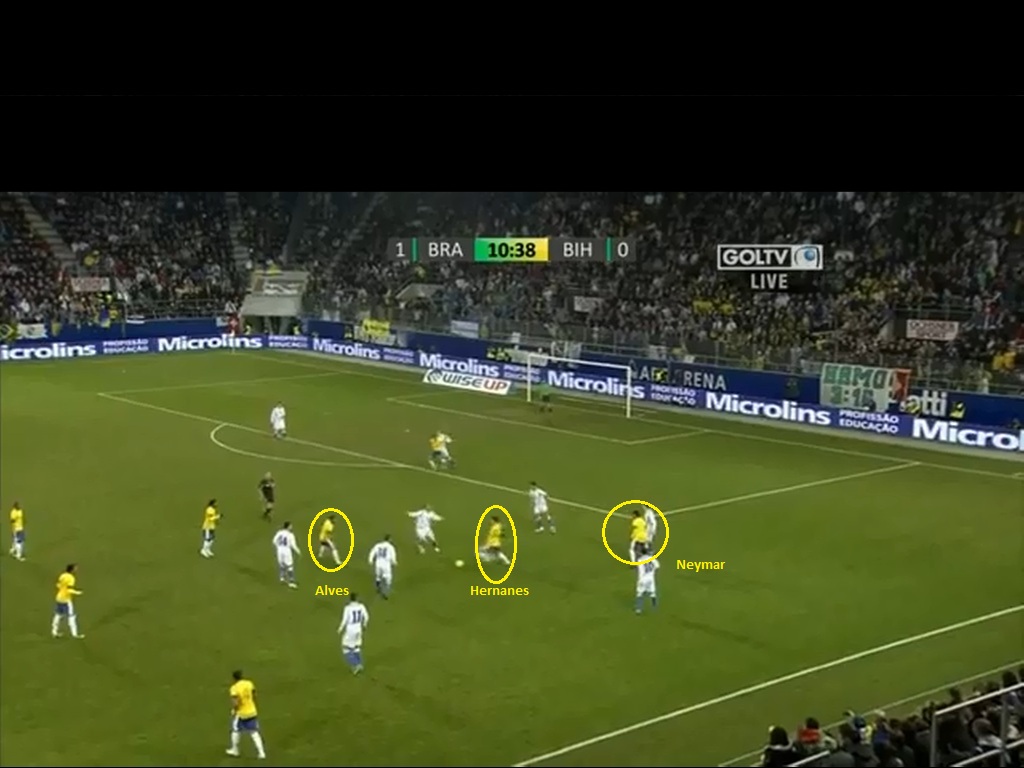 Spacing, dammit, SPACING!  Am I making too big a deal out of this?
10:45 – Bosnia's break is broken by Thiago Silva.  Ronaldinho takes the ball.  Marcelo rushes down the left wing with plenty of space in front of him, but instead of simply sliding the ball to him, Ronaldinho waits.  Then, he tries to chip the ball over the defense to Marcelo, which even if he had made it over (he didn't) the Madrid left back would still have had a long way to run to get to the ball.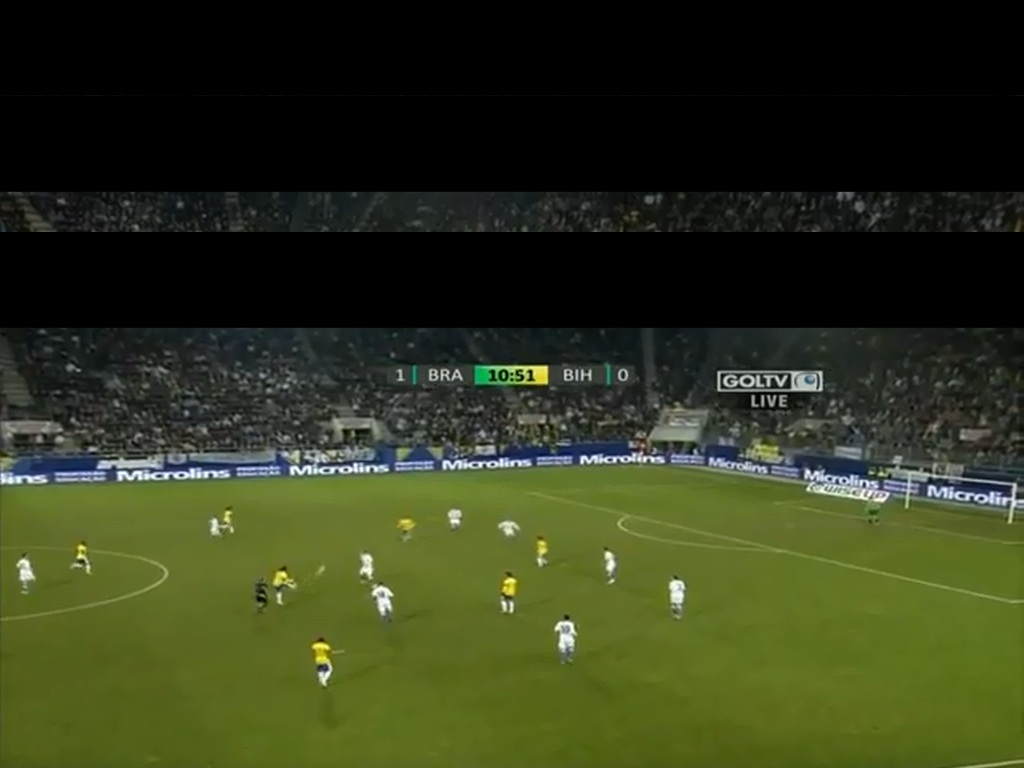 11:06 – Damiao continues to work hard, chasing down the back four whenever they have the ball.  It really is impressive, but he's let down by his teammates who fail to help him.
Here, Damiao runs down the ball….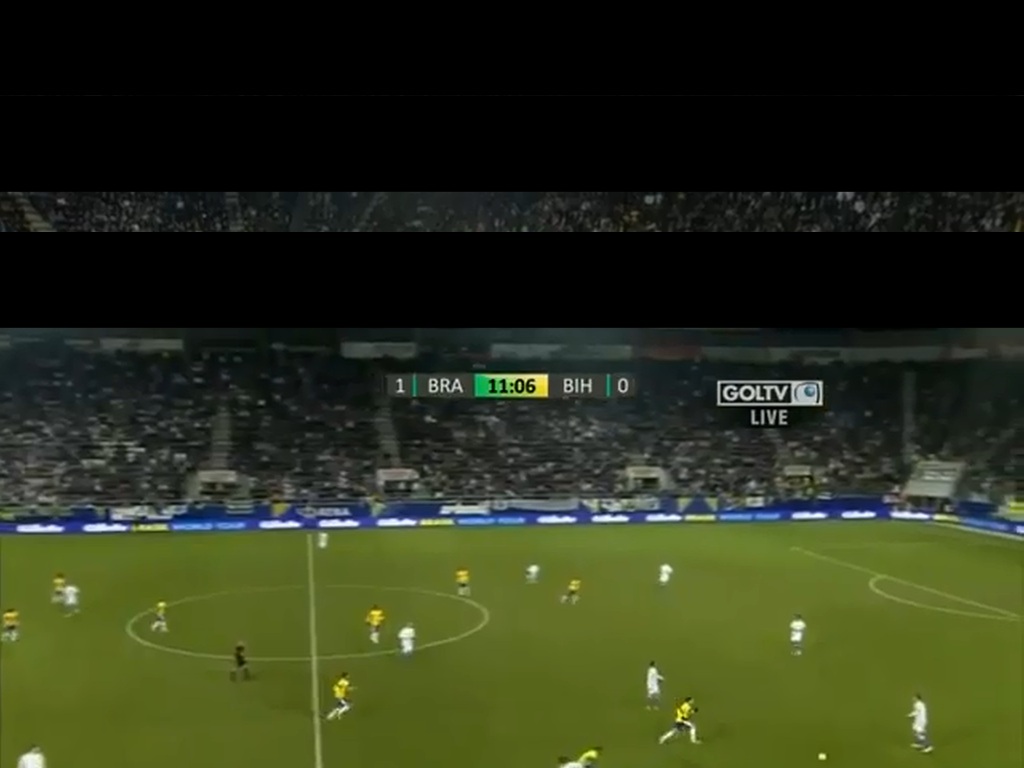 And here is Damiao 7 seconds later…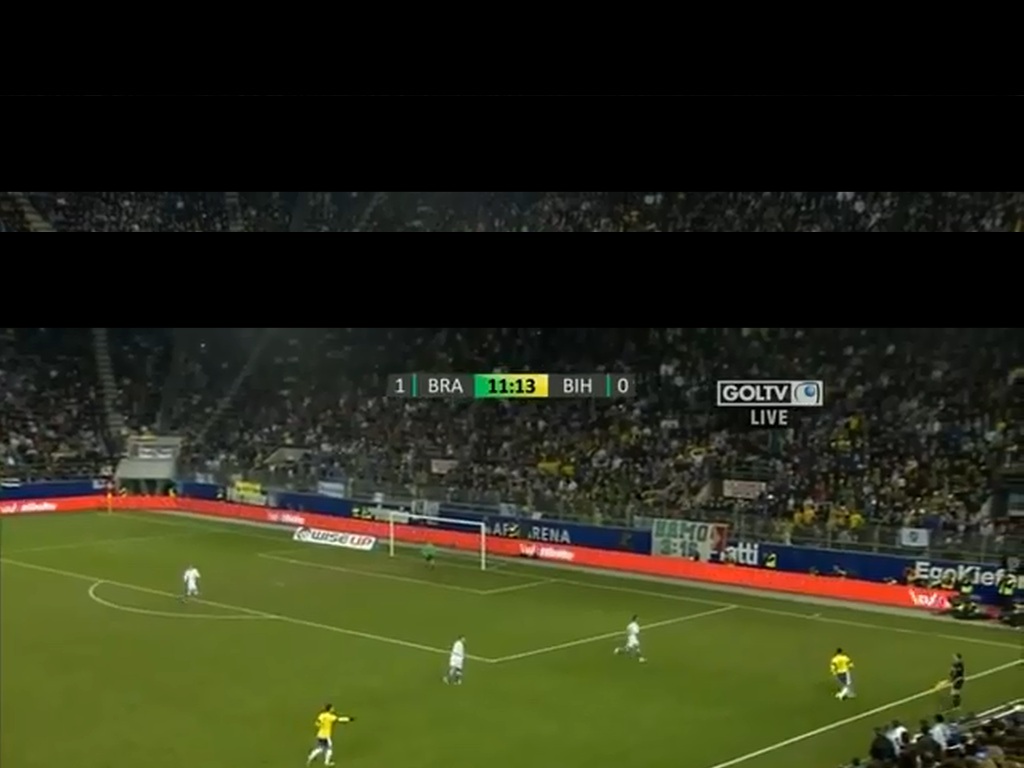 12:00 – The pitch must be extremely hard, because there is a lot of bounce to the surface.  Ronaldinho and Neymar both are having an especially hard time with it.
12:22 – David Luiz gives the ball away.  A routine pass to Sandro is both under-hit and slightly to the left of the Tottenham midfielder, and Bosnia take advantage.  With both Sandro and Fernandinho in line with each other, and Marcelo and Dani Alves both behind them, there is no one in position to help Silva and Luiz.  Luiz immediately realizes his mistake, but Ibisevic adroitly moves to the right (rather than just run through the middle) so Luiz is forced to turn around and is always going to be at the mercy of whichever way Ibisevic decides to go.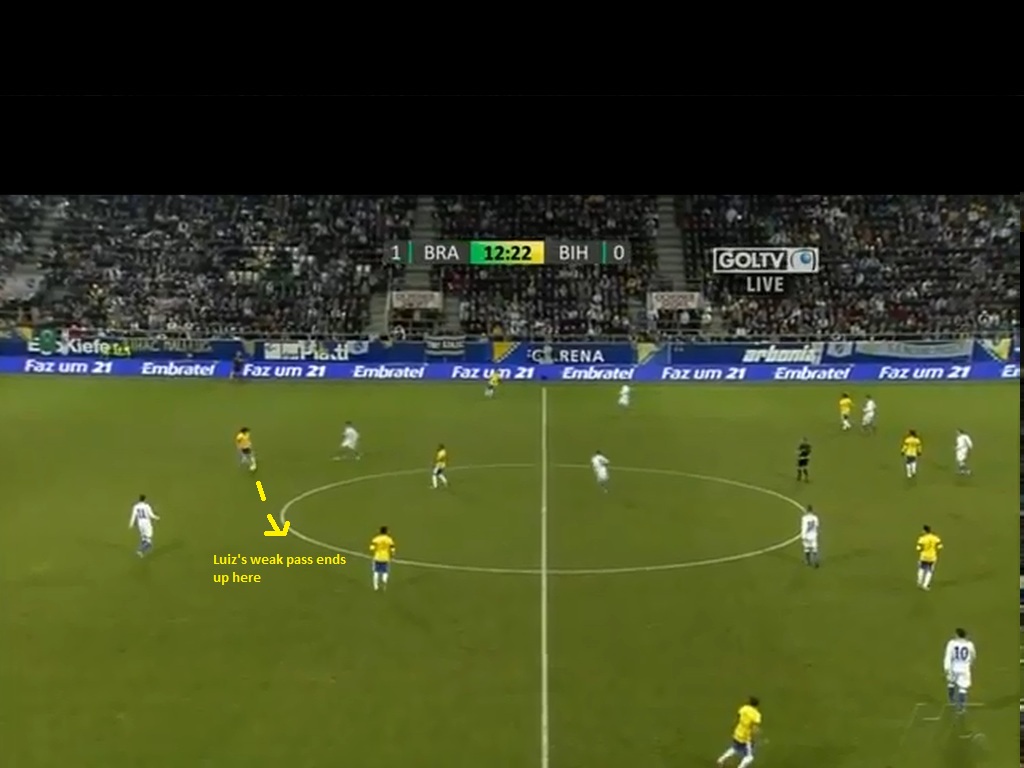 Fernandinho does well to run Ibisevic down, but it's a split-second too late to prevent the shot from going off.  Still, it's a rather tame effort.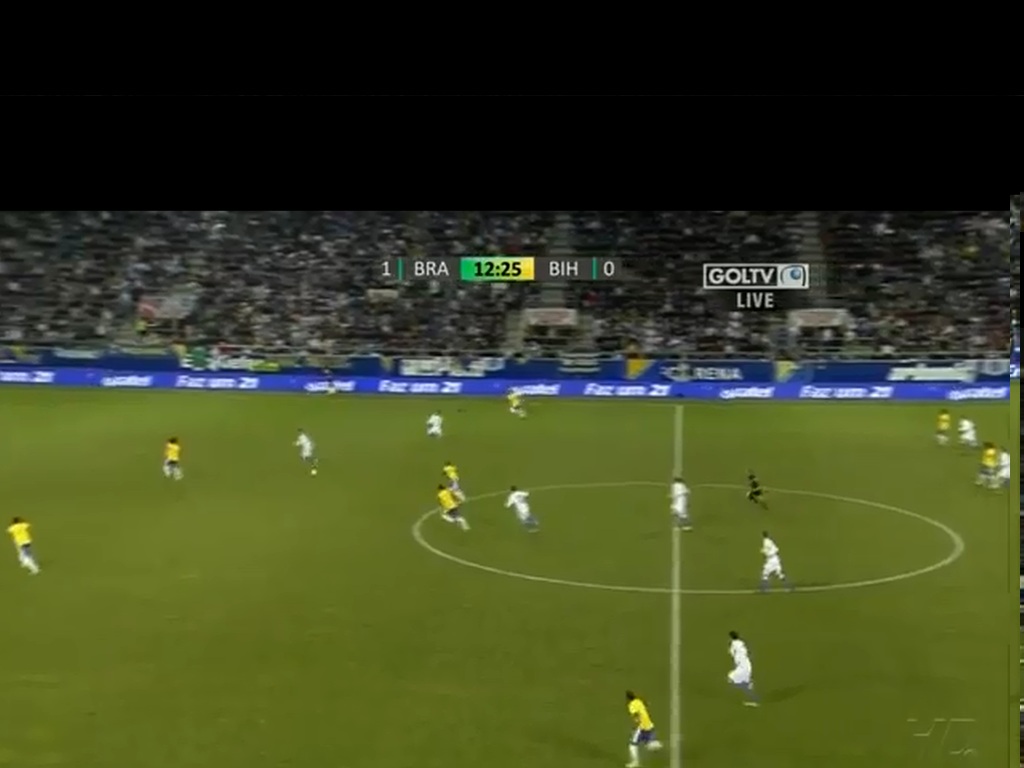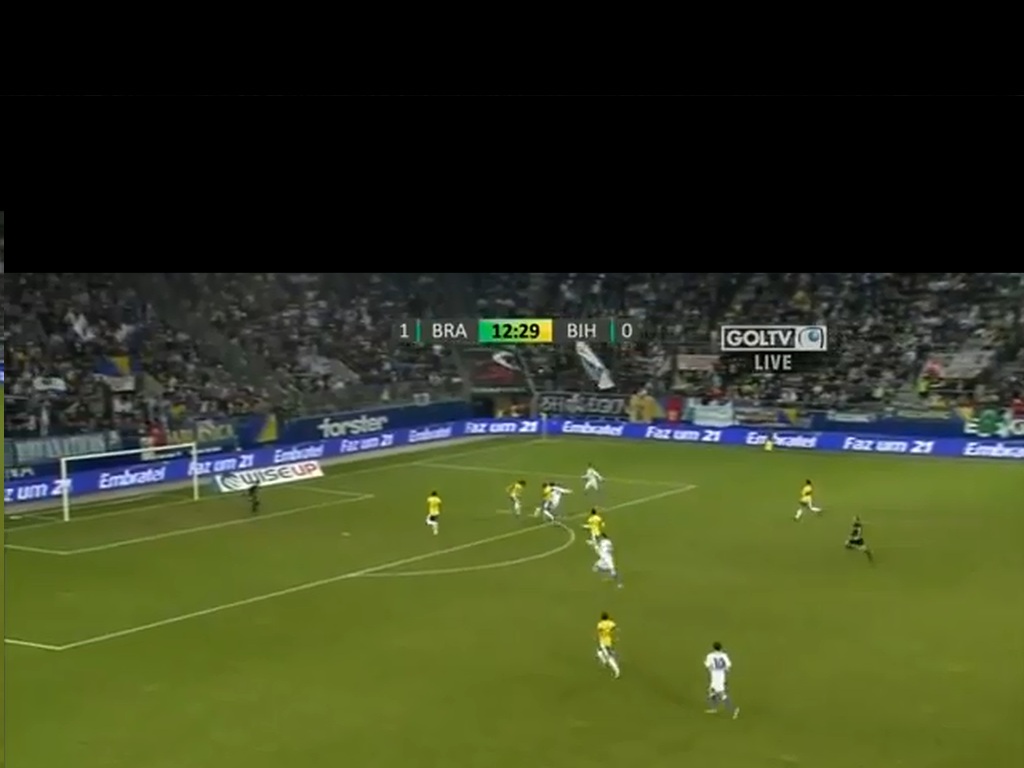 Julio Cesar should have stopped the shot.  Plain and simple.  He went to ground way too early, leaning to his left, probably thinking that Ibisevic would have struck the ball better and to the far post.  Instead, the ball comes right at him, then bounces past and into the net.
13:00-90:00 – The commentators continually refers to the keeper as Diego Alves.  Sigh.
18:18 – Brazil is keeping possession almost effortlessly, which is part of the "relativistic improvement" I spoke about at the end of last year.  They were not keeping possession very effortlessly in 2011 – in fact in many cases, they weren't keeping it at all.  It's one thing to cede possession to Germany, but when the likes of Romania, Venezuela and Paraguay are winning most of the midfield battles, you have a problem.  That problem has mostly gotten better since at least the match against Mexico, and maybe before.
The problem in this match is that, for all their possession, there are rarely any "moves."  Too often the ball is given to a midfielder, who turns and passes up to an attacker who drops deep, but the attacker's back is to goal with a defender breathing down his neck, so all he can do is just pass the ball back.  Again, there is NO ATTEMPT to stretch the defense.  Even when our fullbacks get involved, they are not trying to move without the ball up the flank, but instead receive the ball on the flank, usually in line with the center circle, and then just pass back inside.  It's more like Brazil is playing keep away.
Except when Ronaldinho gets the ball.  He's trying to give the ball to Bosnia, I know it.  We're giving him the benefit of the doubt, right?  That his endless flick-ons that never come off are all part of some grand master plan?
Anyway, this is the single biggest reason why I know that Mano is not trying to implement any real tactics with this team.  There has never once been any sign that Brazil is ever trying to target any particular players or areas of the pitch, no sign that the players are doing anything other than "just winging it" and hoping they can find something to exploit.  If anyone can give me an example of actual tactical instruction and prove me wrong, please post it in the comments below.
19:01 – It's almost like Ronaldinho is allergic to space.  He ignores an open Dani Alves, who has room to run at his defender, and instead passes left to Neymar.  Now, granted, Neymar is about to have a good moment, but the obvious decision was to pass to Dani Alves.  This is what playmakers are supposed to do – find teammates who have space around them and are more likely to do damage.  Even if Neymar goes on the most amazing solo run in history and scores, passing to a teammate who has defenders around him instead of another teammate who has a lot more space and is far more likely to make something happen would still be the wrong decision.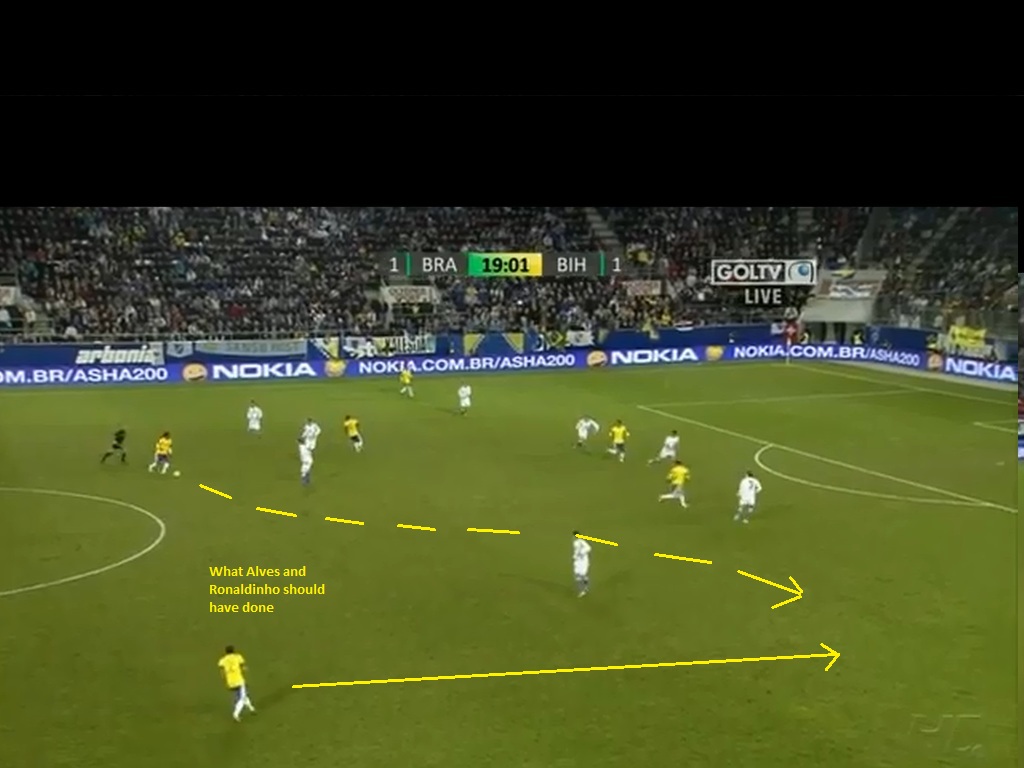 In any case…
19:06-19:16 – Very nice interplay between Neymar and Marcelo, but Neymar runs out of room near the box and Bosnia recover.
Of late it seems that Neymar's dribbles have been less effective for Brazil than when he plays for Santos.  In this match, a lot of his runs were actually pretty effective, but let's examine for a moment why Neymar has been more obviously effective for Santos than for Brazil the last few matches.  Part of it may be that he is facing better defenders, but a bigger problem in my opinion is, again, the lack of space.  When Neymar gets the ball for Santos, it's often in the middle of the pitch, with plenty of space around him (as Santos' midfielders are very much in the habit of spreading out to the flanks whenever Neymar decides to drop deep, and are always looking to get the ball to him) and he can use a great first touch to break free of his marker.  (It helps that Santos looks to play the counter far more than Mano's Brazil does.  Pay attention sometime – we almost never try and initiate counterattacks even when we break down the opponent's buildup in our own half.)  For Brazil, Neymar too often gets the ball solely on the left, and both our LB and our AM will be standing very near to him…which means their own markers will be, too.  So Neymar has little room, and can only do what I mention earlier – pass the ball backwards.  Mano seems to have no concept of telling his players to overload one part of the field to open up another.  It's like all Brazil does in training is stand a few yards away from each other and exchange short passes.  Anyways, enough ranting.
19:31 – Bosnia's long ball up to (I think) Dzeko is deftly headed away by Silva, right to Sandro.  Sandro passes to Fernandinho, who sees daylight ahead.  He dribbles forward.  Bosnia for the first time is playing a slightly higher line.  Damiao is level with the two CBs, with space between them and the box.  He makes eye contact with Fernandinho, and prepares to break the trap.  Both men execute beautifully, with Fernandinho splitting the trap to Damiao.  But what lets Damiao down, that I didn't catch before, is his slightly heavy second touch.  Rather than being able to take a step towards the center, which would give him a much better angle against the keeper, Damiao's second touch takes him a step farther towards the left goal line, away from the center, with a defender on his right shoulder between him and goal.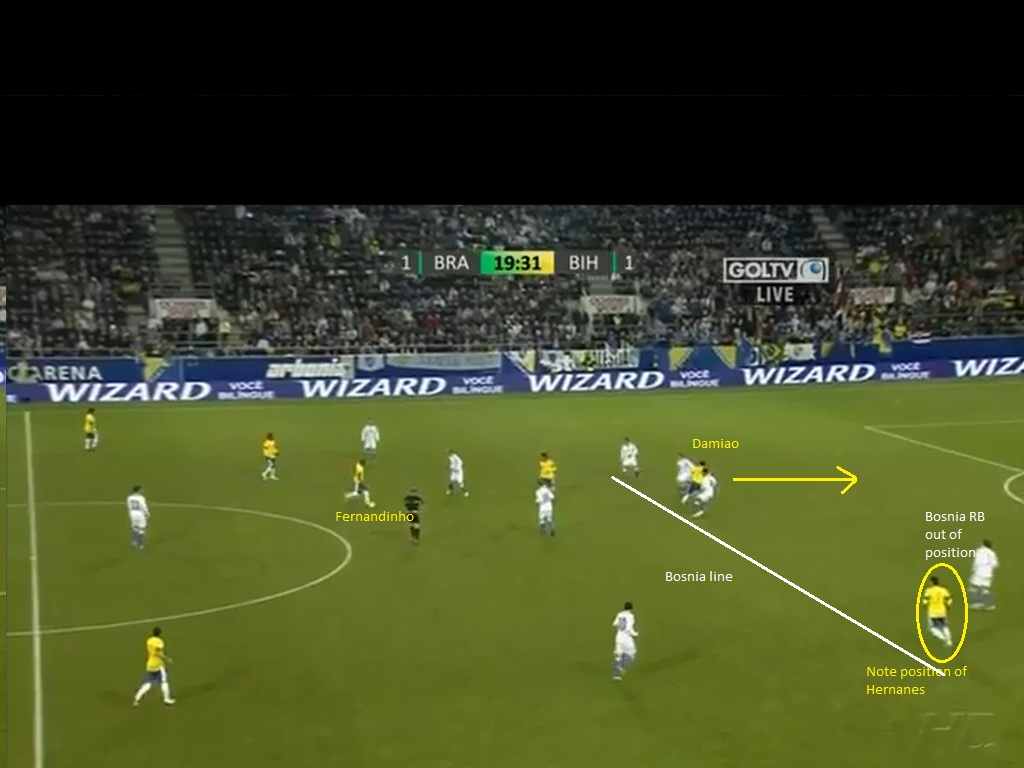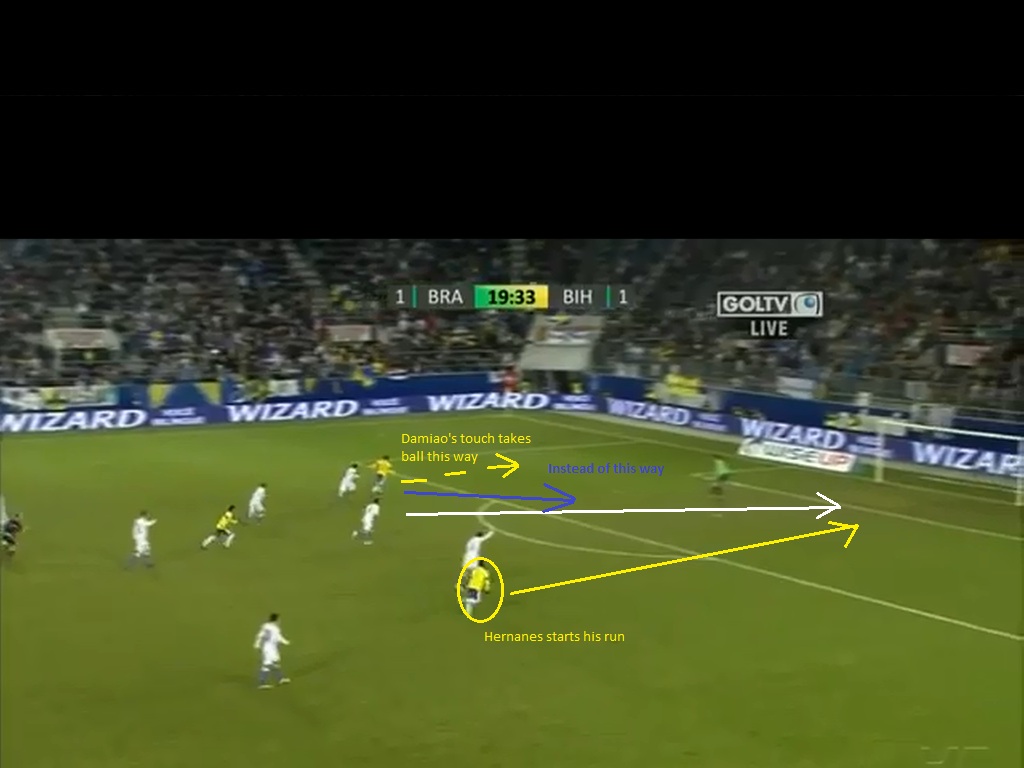 Note Hernanes running forward.  I watched this several times to see if he started his run too late.  You can maybe fault him for five-tenths of a second…he made his run the moment Fernandinho's pass landed, rather than when it was still in the air.  The Bosnian leftback is too busy calling for offsides to track his run, but the Bosnian CB, Spahic, is still two yards ahead.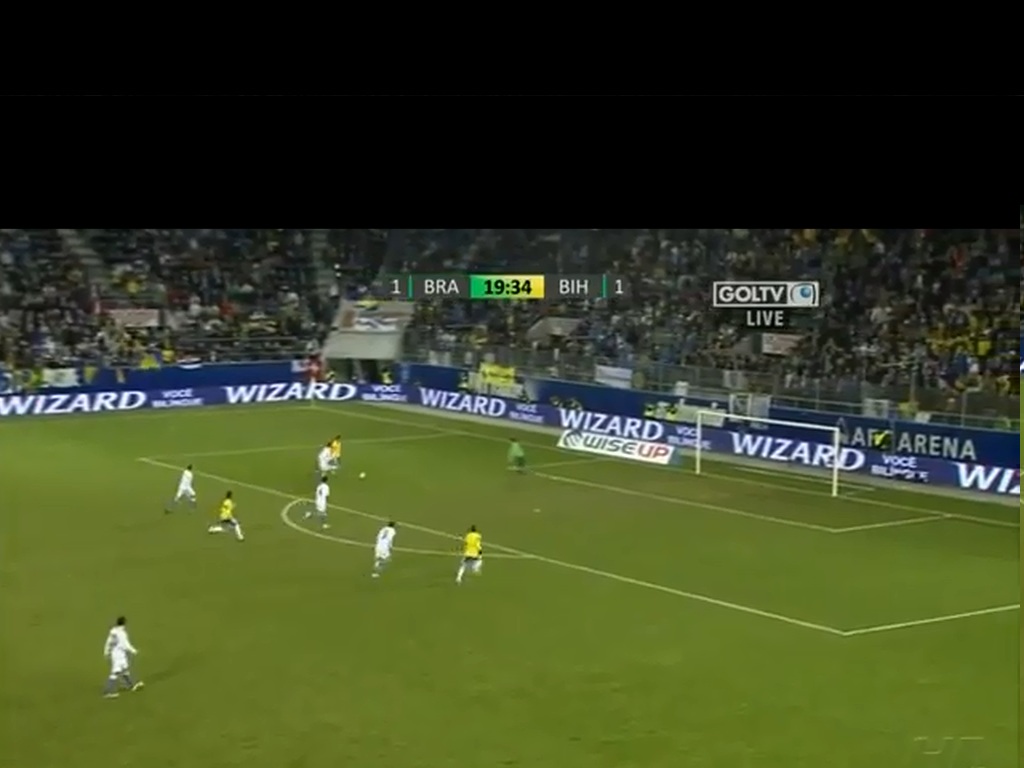 In any case, Damiao tried to squeeze the ball past the left foot of the keeper, but couldn't get it through.  Maybe he should have tried to chip the ball, but he had little time.  He was also very close to both the keeper and the goal to get the ball both up and down in time.  It probably wouldn't have worked.  The fault was not his shot selection, but his 2nd touch.
In either case, the ball fell to Hernanes, who tried to get it with his left foot, but Spahic tackled brilliantly to deny him.  Maybe Hernanes could have done a slide of his own, but I truly think the goal was denied more by better defending.  Remember, Hernanes is not known for his speed, and he is playing  in a position that demands it.  He's not going to win many pure footraces.  But consider who was on the bench.  Hulk.  A bonafide right winger.  The fastest player on the team, save for maybe Lucas.  If Hulk had been starting, and Hernanes playing in his actual position, I think Hulk gets to that ball, everything else being equal.
Looking at the replay from another angle, Hernanes made contact with the ball first, but Spahic's foot was on it a millisecond after.
22:21 – A moment that illustrates the difference between Maicon and Dani Alves.  Alves receives the ball on the right flank with plenty of room to advance and start the attack.  But he doesn't move a foot; just passes back to Silva.  Alves does not advance the ball. He receives it.  This may indeed why he is so much better for Barca than Brazil: Barcelona discourages too much dribbling, unless its Messi; for Brazil, you have to be both able and willing to do it.
24:45 – Alves, what is he thinking?  Deep in his own half, he tries to send an aerial ball to Fernandinho in the middle of the park.  It's easily cut out, and the break is on.  Bosnia tries to chip forward for Dzeko, but Thiago Silva is quick to deny him.
25:16 – Neymar is being extremely cautious when he gets the ball.  For Santos, he'll get the ball and his first touch will be directed toward the center so he can turn and get past his man.  He's barely attempted that tonight.  Fatigue?
25:35 This picture shows the space Brazil have to move around in.  It's one of the few times Brazil has this much space to work in.  But the lack of player movement takes all but the Ronaldinho option off the table.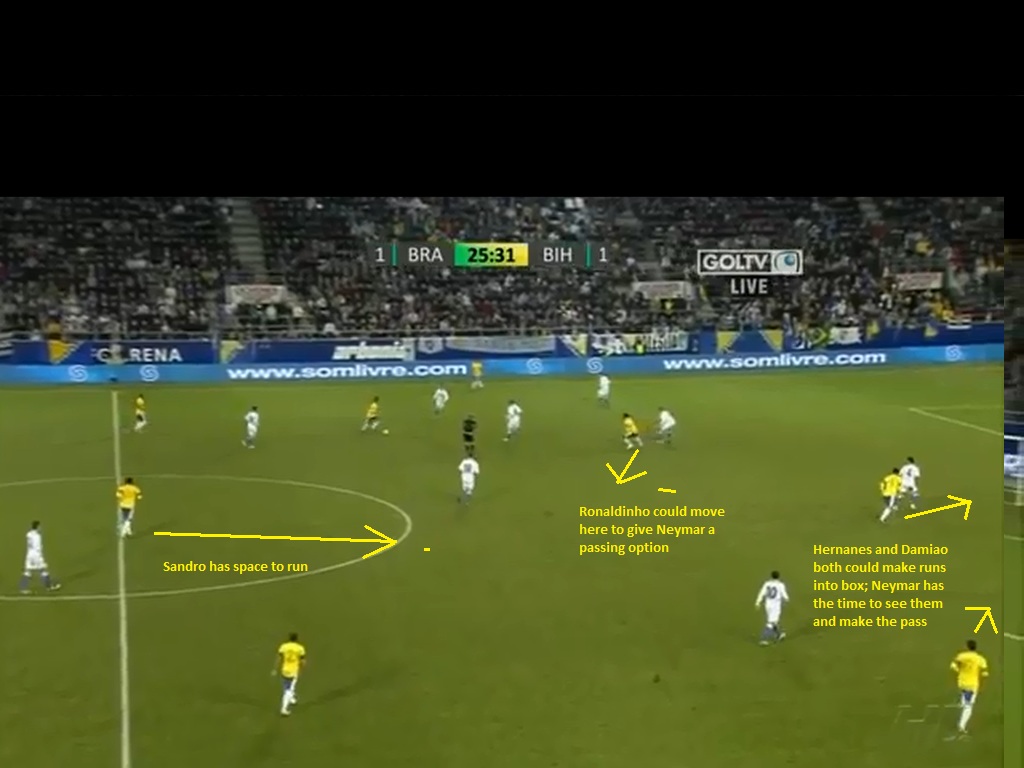 It ends up being a fairly good move anyway, with Neymar playing a 1-2 with Ronaldinho, then sliding the ball through the defense to Damiao.  Damiao gathers and performs a very nice turn, but in the time it takes to get the ball and turn, Damiao has 3 men on him, including one between his right shoulder and the goal.  Once again, he is being turned away from the center.  He fires a shot, which is well struck, but it is straight at the keeper.  Mano raises his hands as if to say, "What was that?" but I'm not sure what he's complaining about.  It was never more than a half-chance.
26:24 – The American commentator wonders if Mano is biased, as some have suggested.  The British one says he has serious doubts about that.  Do British TV commentators even pay attention to their sport?
26:45 – Bosnian counter-attack is stalled by Thiago Silva, then broken up by Sandro.  So far I'm not seeing anything wrong with Sandro's play.  His job is to be an enforcer in the midfield.  He's broken up several Bosnian build-ups.  There is very little, throughout the entire match, that he can do to stop Bosnian counterattacks, because Bosnia almost always targeted a different area of the pitch than the one Sandro tended to be in.
27:20 – Brilliance from Neymar.  Sandro defelects a pass in the center-circle which falls to Bosnia, but Ibisevic can't control the ball.  Marcelo takes control, then passes ahead to Neymar, who finally gets the ball while moving (rather than being stationary) and without his back to goal.  Neymar deftly nutmegs Ibisevic, then Marcelo dummies over the ball and Neymar continues his run, cutting inside to the right of the edge of the box.  Then Neymar cuts even further inside, leaving Bosnian leftback Papc like a statue.  Three more Bosnians converge on the youngster, but he somehow manages to fire off a shot that is deflected.  Hernanes gets to the rebound, but his shot, too, is deflected.
30:00 – Stoppage of play to attend to a hurting David Luiz.
32:00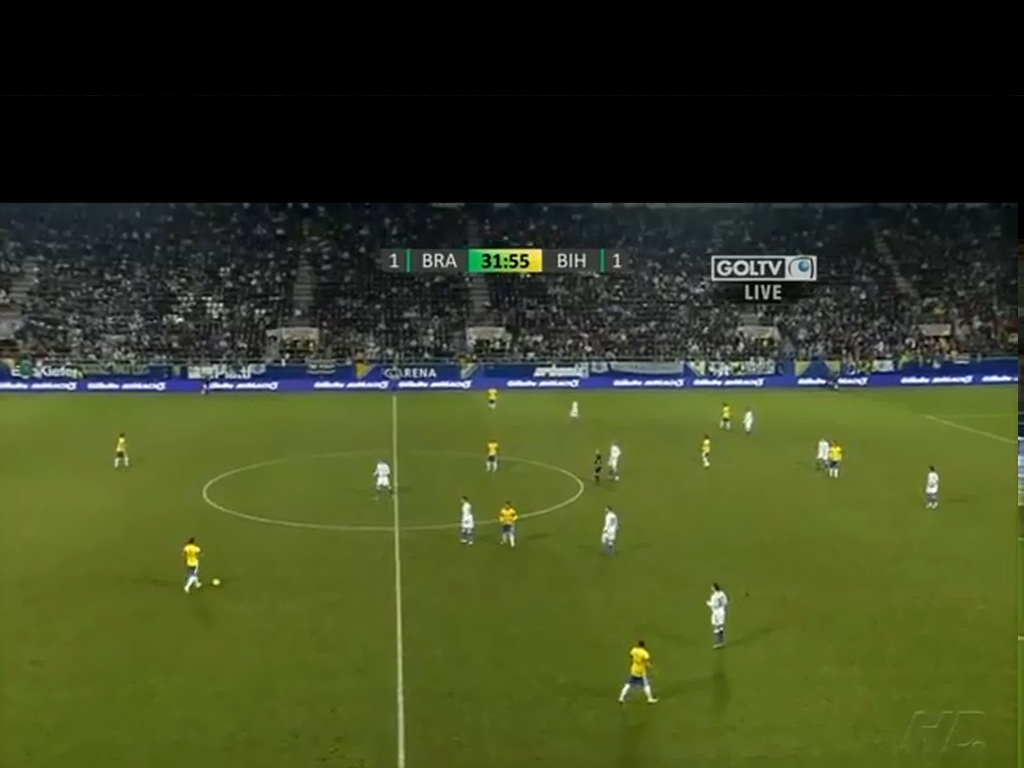 Brazil's basic formation when building from the back.  Very close to the ancient 2-3-5 formation.  Aside from leaving themselves wide open to the counter, look our players.  They are just standing there in almost completely level in two banks of four!  Do I need to explain why this would be so easy to defend?
This picture is 35 seconds later.  The only real difference is that Hernanes and Dani Alves have swapped places.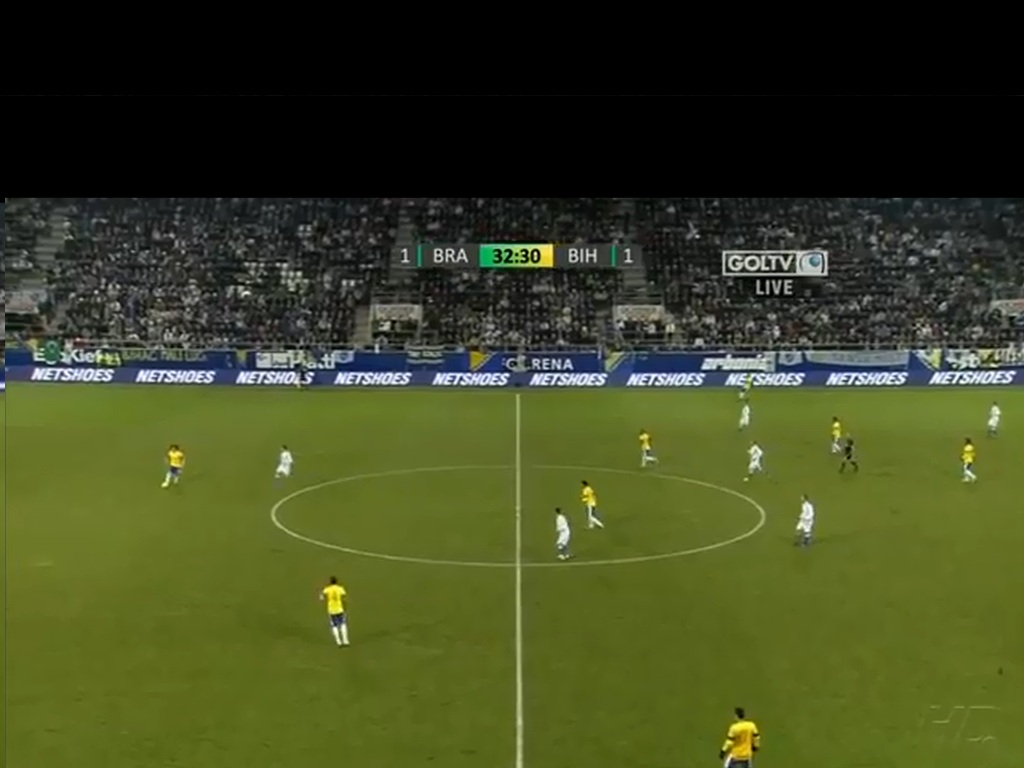 32:45 – Sandro makes a mistake in the midfield, trying to spread the ball out wide to Hernanes, but Bosnia intercepts and the race is on.  Again, they spread the ball diagonally rather than going the center, and again, they look to be targeting David Luiz.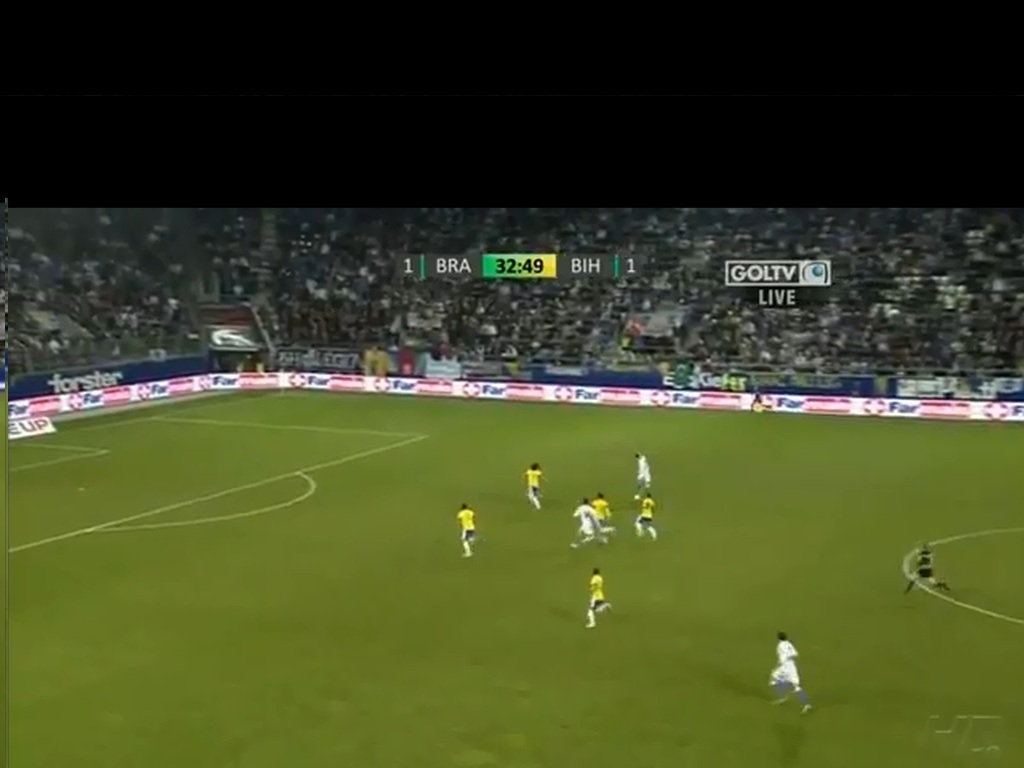 Fernandinho and Sandro are quick to track back, making it, technically, a 2v4 break, but the ball is being moved to the outside where it's a 1v1 situation against David Luiz.  Marcelo, who was up so high on the pitch even when the ball was nowhere near him, and Dani Alves was also high up on the opposite side, is nowhere to be seen in this picture.
In this case, the dribbler, Dzeko, makes it to the edge of the box, but his shot is nowhere close to being on target.
33:20 – Ronaldinho makes a good pass!  He finds Hernanes in the far right corner, but the Lazio man is quickly covered by two defenders and can't go anywhere.  Bosnia are doing an excellent job of denying Brazil 1v1 situations, always collapsing on the passee.  (I know, that's not a real word.)
33:47 – Fernandinho and Damiao really have a good partnership.  Fernandinho again finds a trap-breaking Damiao with a splitting, lofted pass.  Damiao turns and sends in a cross with his right foot, but Neymar inexplicably made no move to get on the end of it.  If he had, he might well have had a free header in the box.
Fernandinho is still the only player in this lineup who is both accurate and ambitious with his passes.  Consequently, whenever he attempts them, he usually catches the Bosnian defense off-guard, who are expecting something more conservative.
34:20 – The first cross of the night to Damiao.  You read that right.  34 minutes in, and we've only now seen the first cross of the match to our big center forward, who already in his young career is probably the best header of the ball since Romario played.  At least among our forwards.  Juan was pretty darn good for a centerback.
Quick tangent.  Who do you pick as the best header of all time in Brazilian history?  Or at least the last 50 years?  There's no doubt in my mind whatsoever that it's Pele, so maybe a better question is, who is second?  Ronaldo was never great at them.  Romario was good, due solely to his fantastic instincts.  Only his height prevented him from being better.  Fabiano just never had the lift.  Neither did Bebeto.  I guess you could say Serginho, but…meh.  Rivelinho was a midfielder, Jairzinho was a winger, and neither really were that useful in the air, at least not in any of the matches that I've seen.  (Jairzinho was a fantastic athlete, so he may well have been good, but I don't remember him really attempting many headers in either the '70 or '74 World Cups.)  So who's left?  Brazil sure doesn't seem to produce many aerial threats, do they?  The point is, Damiao's in his early twenties and already I can say with confidence that he'll probably go down as one of the best 3 in the last 50 years.  Besides being tall, he gets excellent positioning, he's a good jumper, and when he makes contact, he really snaps his neck down to guide the ball.  And Brazil only attempts one cross his way.  The entire match.  Something's wrong here.
Anyway, Marcelo's cross is accurate but it's too close to the keeper and Begovic claims it.
34:40 – Begovic sends the ball up the pitch to the Brazilian left wing.  A replay on the broadcast prevents me from seeing what happens next, but Marcelo is left in the dust .  Bosnia center the ball through Sandro's legs to Ibisevic who has a glorious chance but can only blaze over the bar.  Probably Bosnia's best moment of the first half, even better than the goal which was more the result of Cesar's ineptitude.  Marcelo was humiliated, and Sandro didn't fare much better.
35:20 – Hernanes is really being shackled to his role on the right wing.  Initially he was dropping deep and central to get the ball, combining well with Dani Alves, but I wonder if Mano said something, because he hasn't really left the right wing in over 15 minutes.  He's wasted there.
Another reason I think Mano may have said something is because Neymar at first was switching flanks quite a bit, but he also stopped doing that at about the same time Hernanes stopped his movement.
35:28 – Damiao is really having a hard time handling passes sent to him as the ball is really bouncing off the hard surface.
37:00 – This time Damiao handles the bounce well, but he is too impatient and shoots well over from too far out.
38:00 – Marcelo tries to race past the Bosnian defense.  Fernandinho sees him but his pass is over-hit.  Shame.  That probably means Mano will tell them to never, ever try that again.
38:45 – Fernandinho fires another excellent thru-ball, this time to Marcelo, but Marcelo takes his eye off the ball and lets it get past him.
39:00-40:30 – My picture cuts out.
40:39 – Wonderful footwork from Neymar.  He collects the ball in the center, jukes his man easily, then passes between two defenders to Marcelo.  Marcelo cuts in and passes to Ronaldinho.  Ronaldinho has 4 options.  Shoot, pass to Damiao, pass to Hernanes, or dink the ball back to his left to Marcelo in traffic.  Any of the first three will do.  He chooses the last option and Bosnia recover easily.  I know I took a screenshot of this but I don't think I saved it.
41:10 – Camera zooms in on Marcelo.  He looks a little heavy to me.  *Shrugs*
41:21 – FtS run down the left flank by David Luiz, who bursts past the defense and makes it almost to the goal line before crossing to Hernanes.  Unfortunately, his pass is read and cut out.
41:45 – Damiao tries to break offside trap.  Ronaldinho ignores him.
41:49 – Now Ronnie attempts the pass he should have tried 4 precious seconds sooner.  Bosnia read it all the way.  Damiao had checked his run anyway.
43:00 – Neymar wins a free-kick in a dangerous position, 25 yards out and in the middle of the pitch.  Dinho steps up.  Right into the wall.  Dinho walks away.
44:22 – A lovely break from Bosnia.  Fernandinho gives the ball away in the midfield.  Bosnia again immediately plays the ball to the Brazil left wing.  Marcelo is again nowhere close.  David Luiz is again the one being picked on.  Dzeko lays off back centrally to (I think) Pjanic, who leys fly, but its straight at Julio Cesar.  The rebound falls to Dani Alves, who dribbles out of trouble.
45:00 – The biggest shame of this match is that Neymar was not more involved.  Brazil really do look better when he gets the ball in almost any situation except for when he's hugging the left touchline with his back to goal.  He cuts inside easily, evades two Bosnian defenders, then passes out right to Dani Alves, who dribbles forward and tries to cross.  The pass is cut out.  It falls back to Alves.  His second cross is headed away.  Falls to Hernanes, who lays off for Neymar, but the teenager can't get the shot off.
That's the last meaningful action.
Summary
Brazil kept possession easily, and created some very nice moments of interplay between the likes of Neymar and Marcelo, Neymar and Dani Alves, and Fernandinho and Damiao, but ultimately there was far too little player movement and inconsistent spacing.  The tempo of Brazil's passing was also far too slow to ever really crack Bosnia's defense, and any attempts to stretch that defense by making use of width were paltry and few.
Ultimately the 1st half was still an improvement over Brazil's performances in the summer of 2011, but it was a regression from the Mexico and Egypt matches.
Bosnia, on the other hand, had an extremely simple game plan that they executed very well: maintain their shape in defense (easy to do, when one looks at some of the screenshots I posted) and then look to counter, getting the ball into the open areas near the flanks, taking advantage of the absence of the fullbacks.  They also learned early on to try and isolate David Luiz.  There's no doubt in my mind that Brazil is a much better team than Bosnia in terms of talent and potential.  But Bosnia did what almost all lesser teams are going to do against us.  One would expect the manager to make an adjustment in the 2nd half to account for this, but as we will see in our next article, Mano made no adjustment at all.  Bosnia would rule most of the next twenty minutes using the exact same formula as before.
Anyway, Player Ratings for the first half:
Julio Cesar – 4.0.  Did make one decent save, but the goal was unforgivable.  I will always love Julio Cesar for what he has done and meant to this team, but it's time to move on.  We've got too many good keepers waiting for their turn.
Dani Alves – 5.5.  A mixed bag, as always.  His vision to assist Marcelo's goal was stellar, and he also had some nice interplay with Hernanes and Neymar.  But he still doesn't provide any real width, and he wasn't that helpful in defense, either.
Thiago Silva – 7.5  Can't be blamed for the goal, and thwarted numerous Bosnian counterattacks singlehandedly.  Never looked troubled by anything Bosnia did, as long as it was in his area.
David Luiz – 4.5.  His lapse in concentration led to the goal, and he was consistently identified as a weakness on every Bosnian counter.  He could barely handle Dzeko.  Did have a couple nice passes and one FtS run, though.  I still think he's going to develop into a fine defender, but it's time to give Dede a try.  We already know what veterans like Lucio and Luisao will do for us.  (Although if Mano is going to call veterans like them up, as he should do, it might be time to look at Juan again.)
Marcelo – 6.0.  On offense, he was immaculate.  His goal was tremendous, he made more attempts than anyone to stretch the Bosnian defense, and he had some very nice exchanges with Ronaldinho and Neymar.  But in defense, he was completely, and I mean completely, MIA.  He might have more natural defensive ability than Michel Bastos did, but Bastos was smarter with his positioning.  I still think Filipe Luis is the best fit here.
Sandro – 5.5.  I think his game was fine.  Did make one errant pass that led to a counter, but most of the time, there was little he could do.  No defensive midfielder can defend a counterattack when its taking place in a zone different than the one he's in.  But whenever Bosnia did attempt to actually build from the middle of the park, I can't really remember Sandro ever putting a wrong foot forward.  We'll have to see if his play changed in the 2nd half.
Fernandinho – 7.0.  Still the metronome of the team, keeping possession, linking up with his teammates, defending solidly and being the only one to attempt anything ambitious.  His chemistry with Damiao is no fluke.  He created, or started, many of Brazil's best moments.
Neymar – 6.5.  When he had the ball, he looked very good.  When he didn't, he didn't, and neither did Brazil.  Simple.  His 2nd half would be rougher, but for the first, his only problem was that he wasn't energetic or aggressive enough.
Ronaldinho – 4.5.  A waste.  That's all that needs to be said.
Hernanes – 5.5.  Started out brightly, moved around to get the ball, linked up well with Dani Alves, and played a hand in Brazil's goal.  Also pressed harder than anyone not named Leandro Damiao.  But he soon disappeared and became a nonfactor, constrained by his position.  Using him this way is just criminal.
Leandro Damiao – 6.5.  I guess we can nitpick and say that his poor 2nd touch after Fernandinho's pass, and his impatience to fire from distance when he might have dribbled closer to goal are indicative of a lack of killer instinct in the box.  Whatever.  He didn't have nearly enough service in this match, but he still worked harder than just about anyone, always pressing down on Bosnia and constantly looking to break their offside trap.  Consequently, I thought he was by far the most likely to score in this match, but he only ever got 1 true opportunity, and that was when his heavy touch let him down.   Send him a goddamn cross already!
—–
Anyway, I hope this article pointed out some interesting things.  I'm pretty sure that I matched up the right picture with the right description, but let me know if something doesn't make sense.  This is my first time attempting an article like this, so it's probably going to be a bit unwieldy.  Hopefully Part II will look better.
Subscribe

Brazil World Cup Team Blog RSS Feed

Share
Comments are closed