Scolari Announces Side to Play Italy and Russia
March 6th, 2013 | by: Black Matt |

Comments Off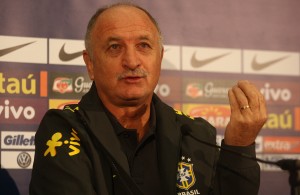 Scolari announced what may be the strongest call-up yet of the post-Dunga era.
After getting handled by England a month ago, Scolari made the right move in dropping Ronaldinho, even after hinting that the Atletico Mineiro man's spot was not in jeopardy. In his place, Kaka makes a deserved return after several good performances for Madrid.
Here's the full list:
Goalkeepers: Julio Cesar, Diego Cavalieri.
Defenders: Dani Alves, Filipe Luis, Dante, David Luiz, Thiago Silva, Dedé, Marcelo.
Midfielders: Ralf, Paulinho, Ramires, Hernanes, Kaka, Oscar, Fernando, Jean, Luiz Gustavo.
Strikers: Neymar, Lucas, Hulk, Fred, Diego Costa.
Luis Fabiano has also lost his place, which can't come as a surprise as he looked completely unprepared for the pace of international play at Wembley. Instead, Diego Costa gets an intriguing first call-up. Costa is no world-beater, but he's having a very solid season for Atletico Madrid, after impressing for Rayo Vallecano a season before. I'm interested to see how he can contribute. Unfortunately, his teammate Miranda was dropped for Dede. I like Dede and think he has a bright future, but I wanted to see Miranda get a chance to show what he can do.
The other big call-up is probably Luis Gustavo. One of the major problems against England was that Scolari fielded two virtual duplicates in Ramires and Paulinho, neither of whom had the requisite steel to break-up play in the midfield. Gustavo's call-up is hopefully a direct response to that. If Scolari starts Gustavo, then it's a good sign Scolari knows how to recognize problems in a way Mano never did.
Thiago Silva makes a welcome return, and will probably partner with David Luiz, though I'd prefer Dante. It's possible, however, that Scolari will at some point field Luiz in the midfield, probably against Russia. In which case, we could very possibly see a squad that includes Thiago Silva, Dante, Luis Gustavo and David Luiz all playing. That's an exciting list of names combining both technique and steel.
Of course, there are still some missing names, Fernandinho and Willian especially. But the major concern I have with this lineup is that Jean and Ralf are both back. There is absolutely no reason, short of injury, why either of them should any see playing time, ever.
Finally, Adriano has been dropped in favor of Marcelo. Since Filipe Luis has rightfully been retained, Scolari clearly liked what he saw out of the latter's cameo over what Adriano had to offer. Still, it's odd that Scolari only called one right-back, and didn't retain Adriano to play in that role. A sign that the three-man defense might be on the horizon?
There are three major points of interest in advance of the Italy match:
1) What formation will Scolari use?
I don't need to repeat myself that Scolari is a chameleon when it comes to formations. He proved it again against England. In the first half he trotted out a Christmas-tree formation, the 4-3-2-1, with Oscar startling alongside Paulinho and Ramires before advancing forward and to the right. This was not what I expected, and frankly, it was a disaster. Neither Neymar nor Ronaldinho looked at all comfortable, Fabiano was isolated, it shackled Oscar with too many defensive duties, the formation was narrow, and Brazil had an extremely hard time getting forward in numbers.
In the 2nd half the team reverted to a more standard 4-2-3-1, and the side looked much more fluid and balanced as a result. If Scolari sticks with that, I expect to see this lineup start vs Italy: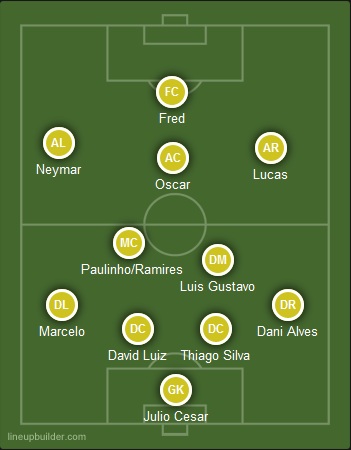 2) Will Kaka start?
If Kaka starts, it's a tantalizing thought to imagine Scolari trotting out his own 4-2-4 like Mano did. However, I don't see Scolari dropping his favored "reference point" – the center forward – so soon into his tenure. Again, Scolari is not averse to experimenting, and we may see it eventually, but not to start, and certainly not against Italy.
Still, if you watch the England match, it's hard not to shake the thought that Kaka was desperately needed. In just three short matches, he displayed a tremendous rapport with Neymar and Oscar. Even more importantly, his intelligent movement and ability around the edge of the box would have been a far cry from Ronaldinho's static, through-ball obsessed style.
3) Did Scolari in fact learn a lesson against England?
By this I mean the disastrous Paulinho-Ramires experiment. It was bad against England. Against Italy? The idea makes me shudder. A Paulinho-Ramires duo has neither the technique to keep the ball, nor the defensive ability to handle the likes of Andrea Pirlo or Riccardo Montolivo. With Pirlo especially, you need someone who can force him to make quick, rushed decisions. If Scolari really wants to be creative, he might even consider starting Hernanes as his AM, as the Lazio man has put in several really good shifts vs Juventus over the past year. If you watch Lazio vs Juventus, Hernanes does a good job of shadowing Pirlo while still being able to contribute to the attack. Hernanes can't contain Pirlo alone, but a Gustavo-Ramires-Hernanes combination possibly could.
Either way, Scolari has impressed me so far with his first two call-ups. They're not perfect, but they at least show he's paying attention. Now let's see if his match preparation can improve as well. Lost in all the anger over the England match was the fact that Scolari had one training session with his new team. It doesn't excuse the loss, but it does explain why the side was lacking in fluidity.
A Bit of Housekeeping
A quick bit of housekeeping.
First, some good news. I think I've mentioned it before, but over the last year my ghostwriting business has taken off dramatically. I've just finished a year-long book project that demanded a ton of time and energy…more than any other project of my lifetime, save for when my twin boys were born.
Now that it's finished, I fully intend to start writing here more regularly. My plan is to put up 2 genuine articles a month, and then supplement them with things like video posts, polls, etc. Just like Duvel used to do. I have another book project starting next week, but it's of a completely different nature, and for a far less demanding client. I'm really excited to start doing more with this site again.
Second, I'm working on a double article that examines Neymar's positioning as well as Philippe Coutinho's transition to the Premier League. I should be able to get it up this weekend.
In the meantime, thanks for sticking around and being patient with me.
Subscribe

Brazil World Cup Team Blog RSS Feed

Share
Comments are closed