Temporary Discussion Thread
March 10th, 2012 | by: Black Matt |

Comments Off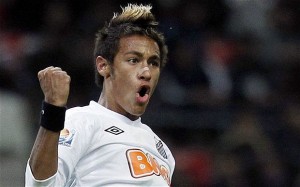 The old thread was getting unwieldy, so, per Dude's request, here's another one to see you through the weekend.
I still want to get up the 2nd half of the Bosnia match, however I have two big writing projects I have to work on this weekend, and more importantly, tomorrow is my 5-year wedding anniversary.  So I won't be writing or watching any football for a few days. 
In the meantime, no doubt all of you have seen the highlights from the Santos/Internacional match earlier this week.  It was a pretty big match, not only in the sense that it was a Libertadores match, or that it involved two of Brazil's biggest teams, but because four of our five most promising young players were featured: Neymar, Ganso, Oscar and Leandro Damiao.  Only Sao Paulo's Lucas Moura was missing.
Even if you've already seen the highlights, or the whole match, as I was fortunate enough to, it's worth watching again:
A few thoughts:
Neymar: In the running for the best match he's ever played.  I don't know if it's number 1 or not, but it's certainly close.  I was left with two thoughts after his performance.  1)  We're doing him a vast disservice by not looking to counterattack more, and 2) While Neymar isn't on Lionel Messi's level yet…he's still really, really damn good.
Ganso vs Oscar: Ganso had an excellent first half.  He really does look much healthier now than he did last year, and it's showed not only with his improved accuracy, but with his ability to shield the ball away from defenders long enough to get off a good pass.  Last year, coming back from injury, you could tell he was rusty, because he just wasn't doing that.  He was constantly playing back-passes, or just not even getting the ball at all.
Unfortunately, in this match, Ganso faded rather badly in the 2nd half.  About his only contribution was getting into repeated tiffs with Dagoberto.  I also think that Ganso had a much easier time of it than I expected him to, because Internaciona's midfield, sans Oscar (to an extent) just completely left their games at home.  I mean, forget the fact that they almost never looked to press, but they couldn't even maintain possession of the ball.  That meant that Ganso got a lot of easy touches.
Oscar, on the other hand, was nonexistent in the first half but slightly improved in the second.  I don't think there's anything to be ashamed about with his performance – he had virtually zero support.  Elton was all over the map, and D'Allesandro was abysmal - he could barely string two passes together.  When he was finally subbed off in the 2nd half, his replacement, Dagoberto, was even worse.
Still, Oscar managed to have an impact, not least with his fine assist to Damiao for their lone goal.  It's clear that Oscar just doesn't have Ganso's vision or his accuracy at spraying long, diagonal passes across the pitch.  What Oscar does have over Ganso is superior mobility, and he looks far more comfortable dribbling forward with the ball than Ganso does.  In addition, he's going to be a bit more versatile in different areas of the pitch.  For example, for Damiao's goal, he ran down a long-ball into the box, outmuscled Edu Dracena, and then side-footed a short range cross past Rafael directly to Damiao.  Ganso just can't do that. On the other hand, Oscar can't hope to equal Ganso when it comes to one-touch passing, or in creating passing triangles, or in exploiting the geometry of the field.
In the end, you can't say that either man had a great match.  Both had their ups and downs.  So in the argument about who is best suited to be Brazil's playmaker for the future, I don't think that this match swayed me in either's favor.  In fact, at this point in their respective careers, I absolutely do not believe that you can conclusively say that one is "better" than the other.  When choosing between the two, it's not about picking who's better.  It's about picking the skill-set that you feel will best suit the team.
In my mind, a lot of it would be opponent-based.  If I'm playing against a team that I know will pack the box and be defensive, I'm probably going to go with Ganso.  If I'm playing against a team that's really going to contest the midfield, and I expect a lot of box-to-box action, I'm probably going to pick Oscar.  In any case, the Olympics are going to have a lot of fascinating subplots, and this will be one of them.
Leandro Damiao
A frustrating night for the center forward, as he was denied just about any meaningful service, except for two occasions in the 2nd half, both crosses.  The first time he was denied by Rafael, the second time he scored.  It's to his credit that he kept working, kept trying to get good positioning to score.  His goal was a tap-in, as a lot of his goals tend to be, but you need someone on your squad who can consistently get himself in a position to score, and Damiao certainly fits that bill.
Two things I noticed with him lately though that he will have to improve on are his patience, and his back-to-goal play.  I don't think Damiao is really an impatient player, but I do think that sometimes he settles for long-range shots, especially when he's frustrated.  He needs to trust his dribbling more, and seek to get past his man and get closer to goal when he has the ball at his feet.
His back-to-goal play is a definite work in progress.  At this point, he's a player looking to break the offsides trap more than he is someone who is looking to "post-up" his man, to borrow basketball parlance, receive the ball, hold off his defender, and then play the return.  We know he can do it, we've seen it before, but he's not consistent enough yet.  It's the return pass that needs the most work.  When he gets the ball on the edge of the box with his back to goal, he has a tendency to rush his return pass.  Several times against Santos his return was wayward, always just slightly behind his teammates.  I don't recall him giving the ball away outright, but his passes were off just enough that it forced his teammate to stop and collect the ball, giving Santos the chance to collapse.
It also wouldn't hurt Leandro to watch some videos of Fabiano or Ibrahimovic play with their back to goal.  Both men are adept at holding off their defender, receiving the ball, then turning quickly and firing off a shot that the keeper is unprepared for.  Witness Fabiano's first goal against the US in the Confederations Cup final for what I'm talking about.
Damn, Fabiano was great for us when he was healthy.
Anyways, that's all for now.  Have a great weekend!  And please post all the match calls you can.
Subscribe

Brazil World Cup Team Blog RSS Feed

Share
Comments are closed