The Playmakers: Kaka
October 11th, 2012 | by: Black Matt |

Comments Off
Brazil's old No. 10 Kaka will start tomorrow against the team coached by Brazil's 2nd greatest-ever No. 10, Zico. It'll be Kaka's first appearance in the yellow shirt since losing to the Dutch in the 2010 World Cup Quarterfinals.
I'm severely pressed for time while writing this, so excuse the inevitable errors. There are a lot of question marks with Kaka's call-up. Most people have been focusing on whether Kaka still has the quality to play for the national team. Some people say "He's washed up!" while others have been saying, "He's making a comeback!" In truth, the reality is somewhere in the middle. It amuses me to hear so many commentators talk about Kaka making a comeback after his hat trick in a friendly against Millionarios a few weeks ago, followed by a silky performance against Ajax the week after. The reason it amuses me is because we've seen this thing before – only last year, against the very same team in Ajax in the very same round of the very same tournament, Kaka put in a stellar performance that had everyone from Madrid's assistant Karanka to pundits everywhere declaring that "Kaka is back!"
In reality, Kaka isn't back. Kaka never went away. Kaka is just different. And the sooner everyone comes to terms with what he isn't, the sooner we can all begin objectively analyzing what he is.
To say that Kaka has had a rocky time in Madrid would be an understatement. In my opinion, there are four reasons why this is so.
The first, of course, is injuries. Repeated injuries, especially the groin injury he suffered in 2009 and 2010, have sapped a huge amount of his speed. Consequently, spending so much time on the bench has, at times, sapped his confidence. At his worst, we've seen Kaka display shaky touches, hesitant dribbling, and indecisiveness. I remember last year, after yet another one of Kaka's "comebacks" when everyone was asking "what's the difference now?" Kaka answered that previously, he'd been "thinking" too much on the pitch instead of just playing naturally. (Kaka then went on to say that he was earning Mourinho's trust again. Fast forward a season where all the media is saying that Mourinho is furious with Kaka and wants him out. Fast forward a bit more to see Mourinho talk about how Kaka has an important place in Madrid, and how Kaka thinks he is "earning Mourinho's trust again.) In short, the football media mostly sucks, but we already knew that.
But perception becomes reality, and so while Kaka definitely has had stretches of poor play, mostly due to the poor fitness/poor confidence cycle, his bad form gets as overblown as his good form does.
The second reason Kaka has struggled, of course, is that he will no longer EVER be the Kaka he was from 2005-2008. The electric pace, the furious pile drivers from outside the box, even his wonderful, sinewy balance, have all been eroded by injuries and aging. When people except to see something, and then see something else, they tend to focus only on their expectations not having been met, rather than forming new expectations. It's sort of like reading a book by JRR Tolkien and criticizing it for not exploring the human psyche, adultery, and the degradation of the human spirit due to exploitation by a communist/capitalist/theologian/post-modernist society. We forget that for something to be critiqued correctly, we have to judge it for what it is before we ever look at what it isn't. (Here's your cue to say, "But Black Matt, don't you do that with Ronaldinho and Ramires all the time?" To which I say, "This paragraph has gone on for too long so we have to move on now.")
The third reason is a bit more tactical. La Liga is not Serie A. In Serie A you have more space on the pitch, the lines sit a bit deeper, you see a lot narrower formations, and there's more time for a player like Kaka to build up steam and run at backpedaling defenses. The Spanish game is quicker, more compact, and played more in the center of the pitch – three qualities that Kaka's style isn't naturally suited for. Under Pelligrino especially, Kaka too often had to receive the ball with his back to goal, in traffic, in the center of the pitch. He's not a Xavi-type player who can control the ball in tight spaces and spray balls accurately in a split-second.
The fourth reason is that Kaka is not and has never been a traditional number 10. I think it was his old manager, Carlo Ancelotti, that used to say that Kaka was an "auxiliary attacker." (Much the same was said about Rivaldo back in the day.) It's a fantastic way to describe him because that's exactly what he is. He's not a player who pulls the strings. He's a player that finishes moves, not starts them. Even in his prime, he relied on taking defenders by surprise, either through his speed, or through unleashing a shot from distance, or through popping up somewhere on the pitch where you didn't expect, while the the defense had their attention focused somewhere else. Madrid fans thought they were getting a replacement for Zinedine Zidane, but that was never Kaka's game. And they never seemed to get over that.
There's no way anyone could make the claim that Kaka's been a great acquisition for Madrid, jersey sales excepted, but he's been better than most people think, whenever he's gotten consistent playing time. That's the key. If he's playing consistently and staying loose and limber, his productivity has actually been very good. I think it was Zetona who posted his stats from last season – he averaged more goals and assists per minute than Mesut Oezil did. (Though to be sure, stats can be misleading and Kaka usually played against lesser opposition.)
So that covers his time at Madrid, but what about his future for Brazil? Well, I think it all boils down to what his role is.
Here's my opinion in a nutshell:
If Kaka is expected to be an offensive juggernaut for Brazil like he was in '06 and '07, and to a lesser extent in '09, than he will not have a place in this team.
If Kaka is expected to be a traditional No. 10 in Mano's slow, possession-based offense, spraying balls from just beyond the center circle, conducting the attack, he will not have a place in this team.
If Kaka is used correctly, in a manner that suits his current skill set, he is still good enough to play a role in 2012.
So how do you use Kaka correctly? First, you have to recognize where he's actually effective.
The most interesting question about the next spate of friendlies is what formation Mano will use and how Kaka will fit into it. You can't imagine him dropping Oscar (nor should he) but if Mano sticks to his 4-2-3-1, that means putting Oscar very deep. Offensively, Oscar could do very well there, and while he's a hard worker and can defend well for his position, that would be a misuse of Oscar's talents, and would probably be disastrous defensively.
I think there's two possibilities. The first is that Mano goes back to the 4-3-1-2 he's experimented with this summer, with Kaka as the "one" and Oscar being the highest and widest member of the middle 3.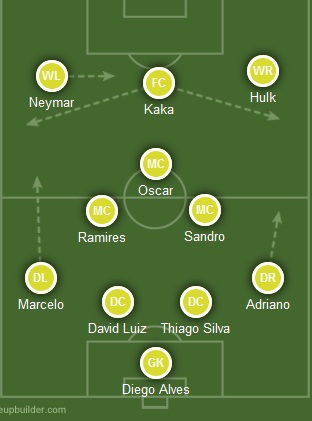 Neymar and Hulk would be the two forwards up top. That could work, though the 4-3-1-2 still has inherent problems that we've already covered elsewhere.
The other is that Mano uses the the 4-2-1-3 he trotted out against China, with Oscar as the 1, Hulk as the right-most player of the 3, and either Kaka or Neymar as a false 9 with the other taking the left wing. In my opinion, this would be the best option. Why? The answer is why I think Kaka and Oscar actually can play together:
Both players have different zones where they tend to be the most effective.
Here's what I mean: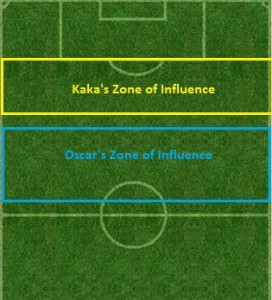 Now, that's not to say that Oscar isn't good near the box. He is, and very much so. But I think his single best strength is in the zone I outlined, where all of his versatility comes into play. He can help win the ball, he can maintain it, he can play short angled passes or longer passes forward, he can dribble, he can move out wide to help the fullbacks (especially the rightback)…you name it.
Kaka, on the other hand, works best in his zone because he does ALL of the little things well in that area. He's got a good first touch. He's fantastic at slipping in through-balls. He's a very good finisher. And he's still a TREMENDOUS mover off the ball, which I'll demonstrate in just a moment. He can move out wide to both flanks, and does so at a surprisingly prodigous rate, where he willingly will stretch play and act as a wide man. And in this team? He's instantly the best crosser we have.
What we're going to do now is analyze Kaka's recent performance against Ajax. While he was nominally assigned the center position in a 4-2-3-1, Kaka rarely received the box in the No. 10's customary zone. More often he would move to the flanks, or ahead to lead the line whenever Benzema dropped deep. Really, you most often saw him with the ball in zones you'd normally associate Cristiano Ronaldo or Benzema to be in. But regardless of where he was, he did most of his damage right around the edge of the penalty box.
So without further ado, a picture exhibition of Kaka versus Ajax.
Kaka vs Ajax
Let's skip ahead to the 8th minute.
Here is Kaka near Cristiano Ronaldo on the left wing. Instead of waiting to receive the ball 5 feet from CR7, (are you listening Neymar?) he slips between two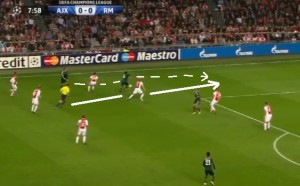 defenders and moves to the wing, receiving the pass in a wider, more dangerous position. He tries to center the ball to Callejon but his pass is read and cut out.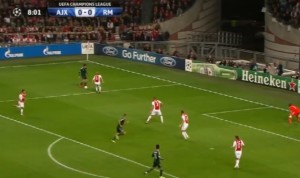 Two minutes later, Kaka and Ronaldo are both clumped together, with the latter moving from the left to the center. Kaka runs forward and to the left, occupying empty space, dragging two defenders with him, giving Ronaldo an opening near the edge of the box before Ronaldo loses his footing and falls.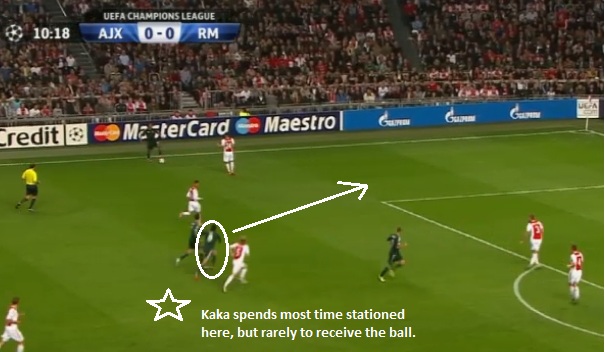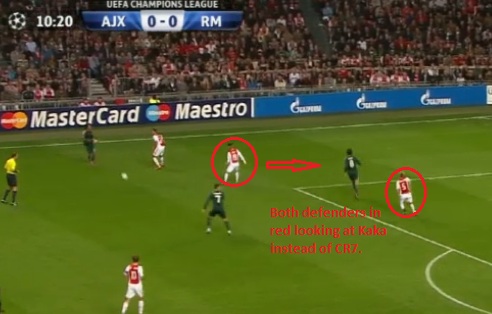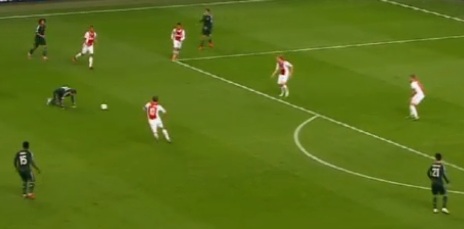 Silly Cristiano.
In the 12th minute, Benezema drops deep and Kaka goes forward to be the man leading the line. (Fitting, as Mourinho described Benzema as a No 9 who can play like a No 10, while Kaka is a No 10 who can move into the 9 spot, which he used to do frequently for Milan.) The point is, Kaka is constantly moving into the space vacated by his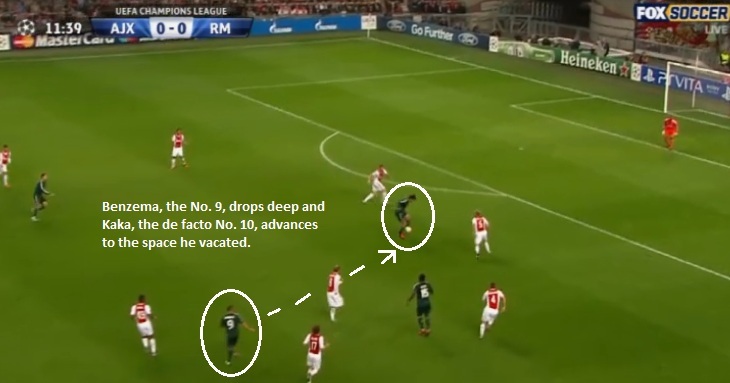 teammates. This is so important, and could be a great antidote to the stagnant, cluttered spacing that has too-often been the hallmark of Mano's Brazil.
Kaka can't quite control the ball and it runs out of play. Can't help but think that 2007 Kaka would have taken the lightest of touches to blaze past the paltry defenders to get 1v1 with the keeper.
In the 14th minute, a glimpse of Kaka from the Dunga-era. Callejon wins the ball and lays off to Kaka. Kaka races forward with space ahead to build up steam. The important thing is, he keeps his head up the entire time to see his options. (Hope Lucas is paying attention.) He then glides the ball through the defense to CR7 in a very dangerous position, but Ronaldo's touch is a tad heavy and keeper Jameson rushes out to blox his shot.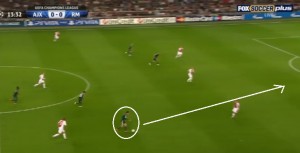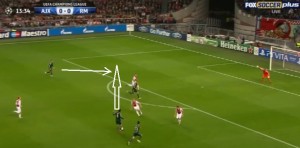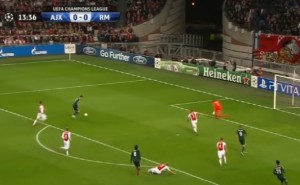 In the 15th minute, Kaka shows he can still weave his way through a defense. He receives the ball on the edge of the box from Ronaldo, then dances past the first defender to squeeze off a shot that is palmed away by the keeper.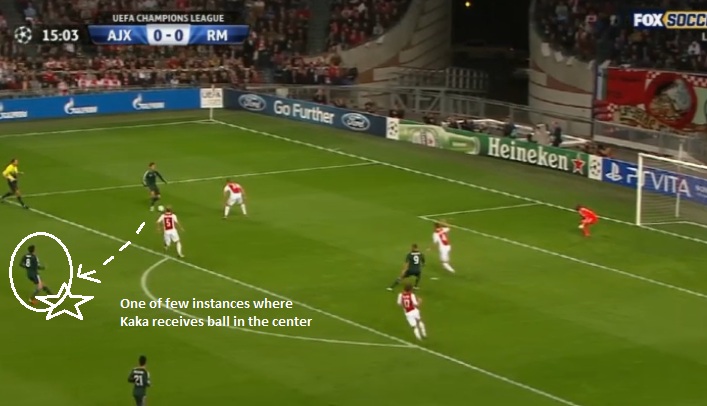 18th minute, Kaka receives ball on edge of the box and floats in a cross just ahead of Arbeloa. Great vision, just a tad heavy execution.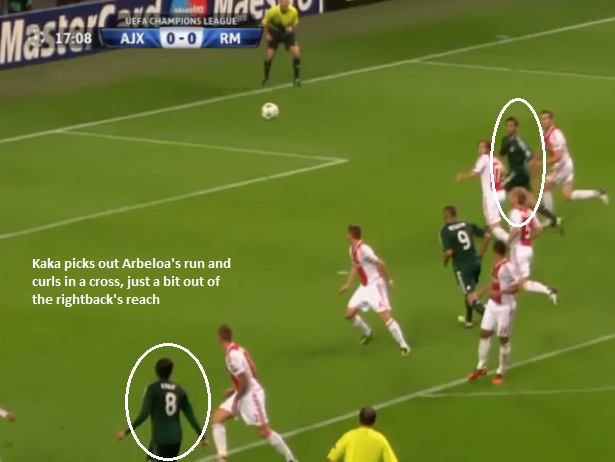 In the 25th minute, Kaka finally receives the ball near the center of the pitch. All he can do with it is pass it back to Pepe.
I've noticed over the years that Kaka is not very good with his back to goal, or when he has to collect the ball with his back to goal in traffic. Instead, he seems to like it when the ball is already on the move and the attack has already started. That way, he can take advantage of a shifting defense. Notice that almost every picture in this article is him receiving the ball on the edge of the box (not advancing it) and then either shooting, getting to the touchline, crossing, or playing in a through-ball. Either way, it's Kaka's job to either get off a shot himself or create a shot for one of his teammate's.
Even without the ball, Kaka is being effective. He continually moves into wide positions, willing to send in crosses and stretch play.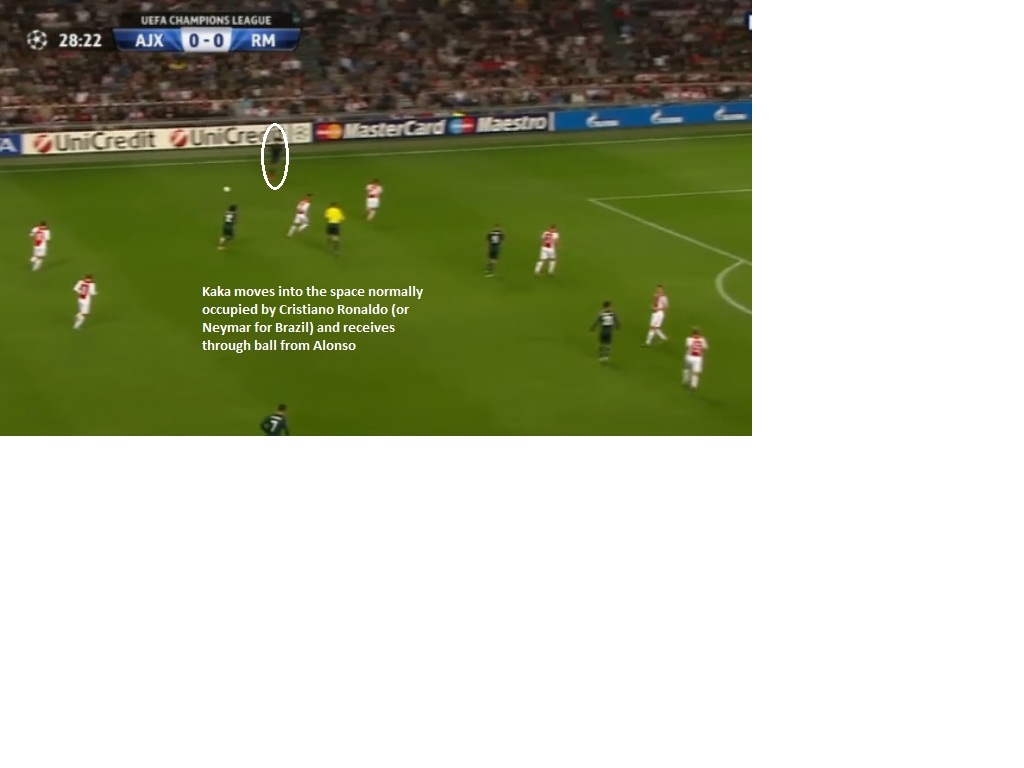 33th minute, Kaka does a lovely little nutmeg pass through the legs of a Ajax midfielder straight to Essien.
In the 35th minute, Kaka moves out left again. He latches onto a through ball from Marcelo, shows a bit of classic Kaka pace (if only for a second) and outstrips the Ajax leftback to get to the byline. His cross is cut out but he wins a corner.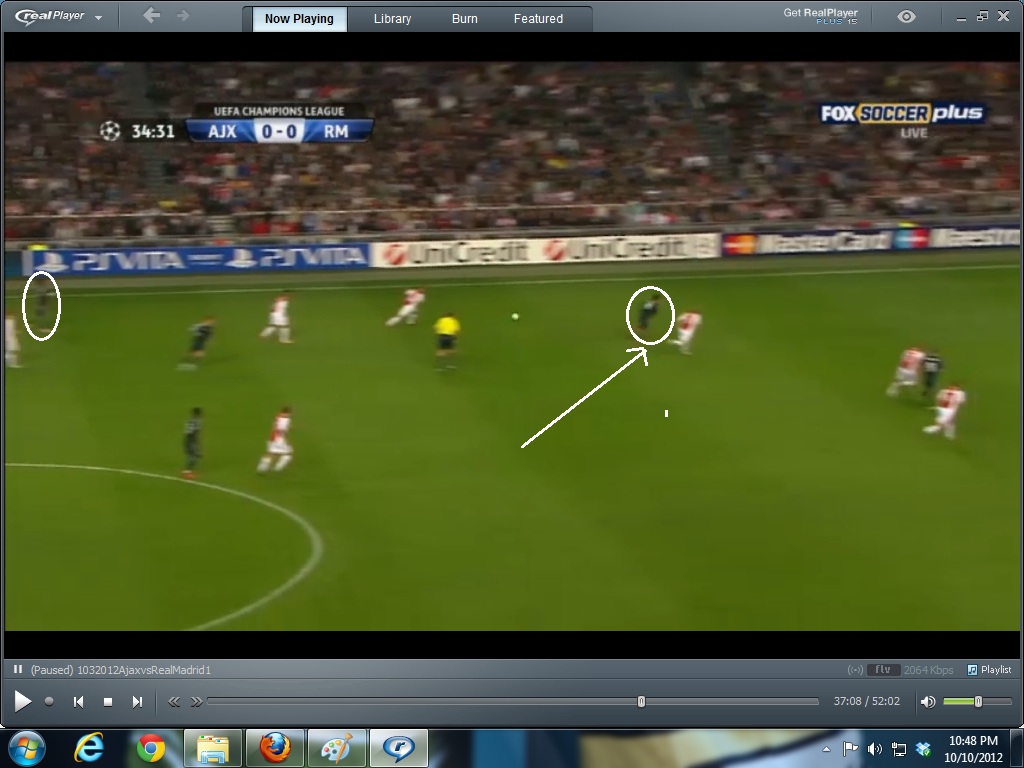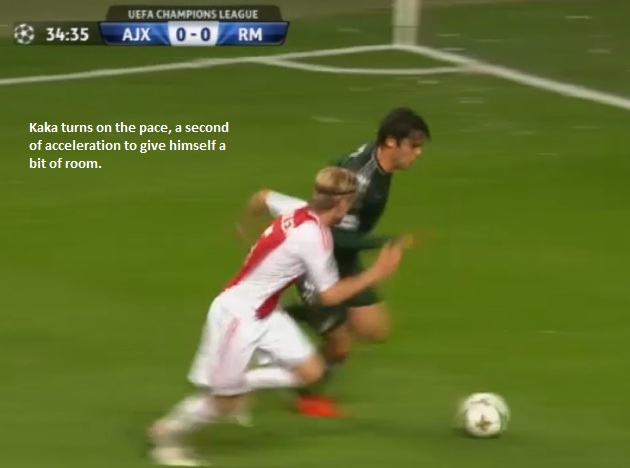 In Kaka's last meaningful action of the 1st half, Kaka sends in a perfect cross to CR7, but his header is straight at Vermeer.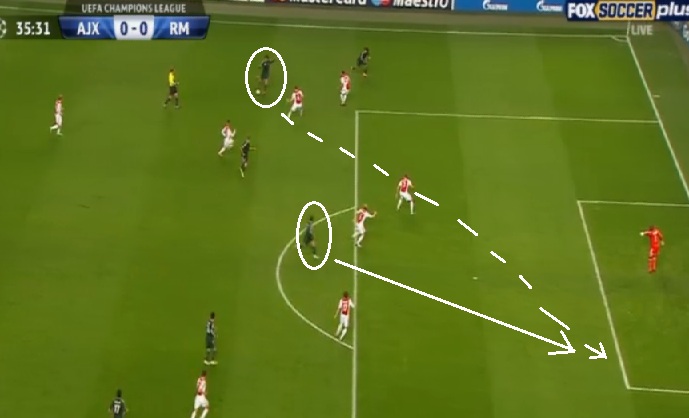 So that's Kaka's 1st half performance, a subtle but smartly-effective masterclass in off-ball movement and versatility in the final 3rd.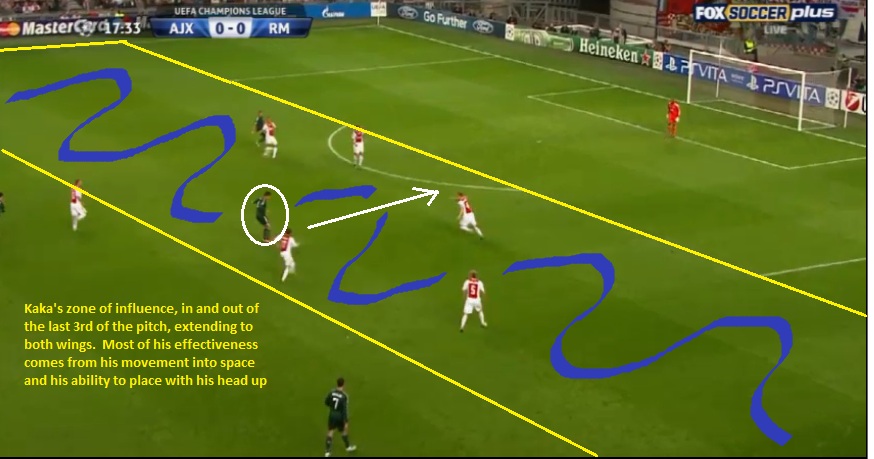 The picture above shows Kaka's zone of influence, as mentioned earlier.
In the interest of time, we'll just cover one more moment, right at the beginning of the 2nd half. After an Ajax free kick is blocked out, Callejon launches a superb break. Marcelo races down the left, while Kaka does the same on the right. Marcelo's pass outpaces Callejon in the center, but falls to Kaka, who slows into the right-edge of the box, then floats in a perfect cross to Benzema, who finishes superbly with a bicycle kick.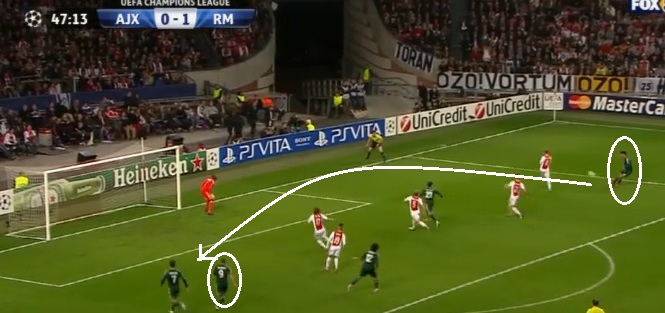 So there you have it. Kaka vs Ajax.
—-
I don't know if Kaka will ultimately make it work with the Selecao again. As much as I love him, he was far down my list of people who deserve – and needed – to be called up. He doesn't really fill one specific need the way, say, a Filipe Luis or Michel Bastos would, and there's a huge chance he won't be used properly anyway. But all that said, Kaka does still have a lot to offer. His experience, his intelligence, his movement, and his grasp of the fundamentals could certainly play dividends. Most of all, it's to be hoped that he can provide Brazil with a greater cutting edge in the final third while still allowing Oscar to flourish in a slightly deeper position.
I don't think we'll be able to make much of a meaningful assessment after just one friendly, against Iraq of all countries, but it certainly adds an interesting subplot…indeed, more interesting than the match itself.
That's all for now. I doubt I'll get anything else up until November, as life is insanely busy right now and is going to get even busier tomorrow as my wife is having surgery and will be off her feet for 2 to 3 months. So use this article as your match-call thread for tomorrow and Tuesday. I'll try to put up a filler thread once this one starts getting too big.
Finally, I do have a Selecao Classics article ready to go (I wrote it back when the site was down in May), so the next time you hear from me, it'll be to discuss Brazil vs Denmark in the 1994 World Cup. Spoiler alert: Brazil wins.
Tchau.
Subscribe

Brazil World Cup Team Blog RSS Feed

Share
Comments are closed