The Playmakers: Oscar
June 23rd, 2012 | by: Black Matt |

Comments Off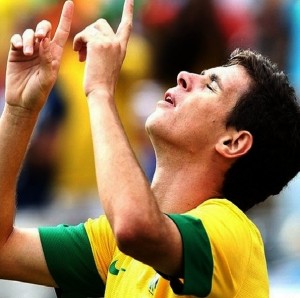 This is the first part in a series I want to do profiling each potential playmaker Brazil has for the 2014 World Cup: Oscar, Ganso, Hernanes, Diego, and Kaka. (I'm discounting Ronaldinho because I refuse to consider him a viable option.)
We'll start off with everyone's darling of the moment, Oscar.

Oscar is the most fundamentally sound player in the Brazilian national team.
Quick qualification on that statement – I'm not counting players who Mano hasn't called up yet. But of all the many players who've donned the yellow jersey in the last 3 years, Oscar is more versatile and more well-rounded than any of them. Different players can do individual things better, and he's not the first I'd pick to build a team around, but after re-watching the USA and Argentina matches, and parts of Denmark and Mexico, I'm going to make a prediction.
Oscar will be the team's starting number 10 for the 2014 World Cup.
Now, granted, I'm not saying anything revolutionary. And I'm not saying that, if the World Cup were tomorrow, Oscar would be the one I would pick. (I'd still pick Hernanes or Diego; maybe even Kaka.) But after re-watching those matches, I was curious to see if his level of play would hold up on second inspection.
It did.
I wasn't sure if I would do this article because it's hard to talk about what makes a player play so well on pictures alone, but then I discovered that videos of every single one of Oscar's touches in the Denmark, USA and Argentina matches were posted to YouTube.
So without further ado…
Let's discuss some of the things that make Oscar such an effective player:
Ball control/body control
One of the things that make Oscar so fantastic is that he has immense control over both his body and his feet. When watching the videos, watch the Denmark match at the 0:38 mark and 3:14 mark, or against Argentina at the 1:48 and 2:11 marks. Not only does he usually display a good first touch on the ball, but watch his body. It's almost always completely vertical. He has great balance when he moves, rarely learning one way or another. It's this quality that allows him to get by his man without having to perform a complicated trick or rely on sheer pace; it's also this quality that allows him to pull off some spectacular one-touch passes, like the one to Hulk starting at 2:11.
When a player is off balance in any sport, it makes it much harder for them to control themselves. Off-balance shots are much harder shots in basketball, make for harder strokes in tennis, and make for more inaccurate passes and shots in football. But Oscar's balance – in part – is what allows him to be so effective. It was a factor in his absurdly high pass-completion rate in the four friendlies, and it prevents defenders from knowing what he's going to do. The balance gives him the time to wait until the last possible second before passing or dribbling past his man. The 2nd clip against Denmark is the perfect example of this.
During the U20 World Cup, I also wrote that Oscar has superb turning ability. He was able to use his ability to turn on the ball to great advantage in that tournament, even against much more athletic players. In addition, while Oscar is not a very fast runner, he has an excellent first step. Johan Cruyff always used to say that it wasn't about who was the fastest, but rather who moved first. Oscar's quick first step allows him run with the ball at speed for a longer period of time than you'd expect. You won't see him go on any long solo runs, but it adds an extra dimension to his game so that he's not always just making passes at a standstill (like Ganso often seems to do.) Contrast this with Kaka, who was one of the fastest players I've ever seen, once upon a time. Now that Kaka's pace has deserted him, his ability to run with the ball is greatly diminished – and he doesn't have a particularly quick first step to rely on. (His pace always was built around the fact that he could pick up speed the longer he ran, not how quick he was out of the gate. Lucky for Kaka, though, that he is also possesses excellent balance.)
Comfort in every area of the pitch
I said after the U20 World Cup that one of the things I loved about Oscar was his ability to range all over the pitch and contribute no matter where he was. He demonstrated the same ability in spades in the last four friendlies. For example, look at 1:04 against Denmark. A lot of players, when on the ball that deep in their own territory, will panic and just boot the ball down field, or try to win a throw-in. But Oscar keeps his composure and sends a perfect long ball up to Leandro Damiao. In addition, in all four friendlies he consistently would drop deep to either help defend, or, in possession, would drop deep to help the build-up. Watch in the videos how often he will fall back, collect the ball, and then quickly pass and move.
Of course, we know how comfortable he is in the center of the pitch, as that's his primary home. But check out 0:33 against the USA to see how good he is in congested positions (keeping the ball even in traffic, before slipping a perfect, casual through-ball to the marginally-offside Hulk.) He showed how comfortable he can be on the wing, popping up on the right wing, easily evading the Argentine leftback, before firing in a very dangerous cross that could have resulted in a goal for either Damiao or Neymar. (2:00 in the Argentina video.)
And of course, he's also got no problem playing in the box itself. (2:59 in the Argentina video.)
Passing skills
There's a bit of '82 legend Falcao in Oscar, due to the things I mentioned above, like his comfort in all areas of the pitch. Another similarity is his underrated passing. To put it short, it's very accurate. More importantly, it's very intelligent: you always see Oscar playing the percentages when he has the ball. He'll usually choose the more conservative option when given the choice, hoping to develop a more clear-cut scoring chance rather than try to make something out of nothing. But there seems to be a myth in some places that Oscar doesn't really ever play killer passes, or attempt defense splitting through balls.
Well, witness 1:00 against Argentina (gorgeous long-ball to Hulk, who should have scored) or 1:18 against Argentina (diagonal lofted-ball over the top of the defense to Neymar, who should have been awarded a penalty) 1:54 against Argentina (perfectly lofted through-ball to Hulk) or 1:08 against the USA (another lovely lofted through-ball to Damiao who should have scored, or 3:19 against the USA (through-ball to Neymar, who crossed to Pato who hit the post.)
A little while back, I wrote a long post to Zetona about the fact that playmakers, despite their reputation, aren't really creators. You can't really create a chance to score with a pass – you can only exploit chances. It's the movement and positioning of your teammates, a long with the defenders, that create chances. A good playmaker is one who recognizes a chance and then tries to seize it. (To this day, Zidane is the best I've ever seen at this.)
Oscar seems to understand this basic principle well. He rarely tries overambitious things that can't be pulled off. But he's also excellent at recognizing a chance, and then attempting to seize it. Watching the replays of these friendlies, I didn't I see a single time when there was an obvious scoring chance created by his teammates that he failed to recognize and exploit. There were a few times where Oscar should have attempted to swing the ball to the opposite flank, instead of a more conservative layoff to a teammate close to him, but this is a minor issue.
Another aspect of Oscar's passing skills is that he can basically complete every type of pass there is. What I mean by that is:
- He's two-footed, so he can pass with both feet
- He's adept at both the long-ball, the through-ball, the lofted-ball, and simple diagonal passes along the ground
- He can pass while on the run
- He can pass with every part of his foot. This one cannot be overstated. A lot of players can only pass with the inside of their foot, but Oscar can pass with his toe, with his backheel, and, most importantly of all, with the outside of his foot. This actually is not very common. Have you ever watched a match on TV where you see passing angles open to the dribbler, who makes no attempt to exploit them? It's often because it would require passing with the outside of your foot, a skill many players don't possess. But Oscar does it on a routine basis. The reason why the outside of your foot is difficult is because you get less feel for the ball, and it's harder to generate power. Just as a backhand is a harder shot in tennis or hockey, passing with the outside of your foot means moving your leg away from your body rather than across. It's a more awkward – and thus, more difficult – movement.
Other fundamentals
I'm running out of time on this article (I can hear my kids waking up) so I'll be brief. While watching the videos above, pay attention to the following:
- Oscar's work rate. He is constantly moving around the pitch, pressing the centerbacks, dropping back to defend, or harrying the dribbler in the midfield. It's this quality that led to Hulk's 2nd goal against Denmark.
- Oscar's grasp of the pass and move idea. After every pass he makes, especially in the center of the park, you'll see him immediately run forward-and-diagonally off the ball, to create a passing angle and catch the defenders napping. Pass and move is so simple and so fundamental, it always drives me nuts when players don't do it. This was one of the single biggest flaws with Mano's team in the Copa America. No one was doing it. (In retrospect, isn't it incredible that Oscar wasn't called up for that tournament? I mean, we knew Mano wasn't going to call Hernanes or Kaka, and Diego hadn't yet found his game in Madrid yet. But Oscar was a domestic player playing for a huge club. You'd have expected Mano to at least give him a look.)
- Oscar always plays with his head up. 1:04 against Denmark is a perfect example of this. He wins the ball off a Dane, drops deeper to evade any challenges, and then fires a perfect ball up the touchline to Damiao. He could have only done this if his head was up the whole time, and it was.
So, in short, while Oscar may not be quite as obviously dynamic as some of the other potential #10's in the Selecão, he's the most fundamentally sound. A lot of players are heavily weighted in one or two areas, meaning they suffer in others. So just as they can help the team with the skills, they can hurt the team with their flaws. That really isn't the case with Oscar.
Now, the one thing to watch out for though is that Oscar came into these friendlies as a relative unknown. Of all the young phenoms playing in Brazil today (Neymar, Lucas, Damiao, Ganso, even Dede) Oscar is easily the least heralded. So it's probable that all four teams didn't know much about him, choosing to focus their attention on the more famous names.
I expect that, very soon, Oscar will start receiving a lot more attention from defenders, so I don't expect him to play this well all the time. In fact, I expect we'll see him struggle a bit in the next round of friendlies. But given the fact that Oscar is a domestic player, an extremely skilled player, a fearless player (look how comfortable he was playing against a senior European side in his first start for the Selecão!) and a young player (he's only going to get better and better), I'm going to hold to my prediction:
Oscar will be the starting #10 for Brazil in the 2014 World Cup. Whether he'll be the most deserving remains to be seen. But it's heartening to see a young player perform so intelligently and maturely. All you can ask of a player is that they seize the chances given to them, and Oscar has definitely done that.
Subscribe

Brazil World Cup Team Blog RSS Feed

Share
Comments are closed