Thiago Silva moves to PSG
July 12th, 2012 | by: Black Matt |

Comments Off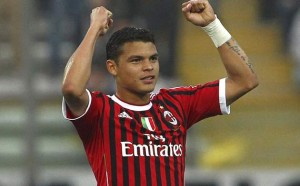 I think.
After the back and forth trolling that Silvio Berlusconi has engaged in this off-season, it's hard to know exactly what's going on. But yesterday Berlusconi announced that, "Yes, we sold Zlatan Ibrahimovic and Thiago Silva to PSG. We will save €150 million in two years."

Which is mind boggling, considering that just a few weeks ago Berlusconi said he had decided to keep Silva, and that retaining the world's best centerback was basically akin to a summer signing.
There's been a lot of discussion about whether the move is good for our captain or not. Some people here have commented that putting Silva on a team that already contains Alex, Nene and Maxwell, and with Leonardo in the back office, is a good thing, because it's basically establishing a Brazilian camp in Europe. PSG also have had their eyes on other young Brazilian talents, so it's possible the influx of samba into Paris could continue.
Others, myself included, have expressed dismay that Silva could be moving to a lesser league, and one that gets a lot less cachet in Brazil than Serie A does. Supporters of the move have countered that the more Brazilians there are in France, the more Ligue 1 will actually be followed in Brazil, which seems like a reasonable assumption. Certainly I would like France to be a more viable destination for young Brazilian talent, as I feel the obligatory move to Madrid, Barcelona, or the top English clubs is like walking along a narrow rope bridge over a vast, alligator-infested chasm. Sure, it can get you to where you're going, but it's pretty risky.
So we'll see…assuming that the move actually does happen and Milan's management isn't trolling the football world once again. They have a habit of doing that.
——-
On another note, for awhile now it's been pretty clear that the second-most talked about sport on this site is basketball. I don't discourage it, and I will never discourage it. People here are free to talk about whatever want, as long as football comes first. Basketball is actually my first love when it comes to sports, and I'd love to talk about it more, but this isn't the venue to do so. So I was thinking: would anyone here be interested if at some point in the future I created a basketball blog? I wouldn't provide analysis, just news and talking points, but it would be to give us a place to discuss the game. I like to think that my Brazil articles are helpful and enjoyable, but I'm well aware that it's the discussions that keep people coming back.
So if I were to create a basketball site, it would basically be an extension of this blog that allows all of us here who like the game to talk with each other freely. Heaven knows that there are plenty of things I'd like to say on the game, but I'm always uncomfortable talking about it here.
Anyway, let me know your thoughts. If it's something people want, great. If there's no interest, that's fine too. I wouldn't be able to do anything with it until the end of the year, so there's no need to make any immediate decisions. I just wanted to get a feel for the room.
I plan on getting one more playmaker article up before the Olympics, this time on Ganso, but I haven't started writing it yet. So plan on using this post as the discussion thread for at least the next week.
That concludes this rambling post.
Subscribe

Brazil World Cup Team Blog RSS Feed

Share
Comments are closed