Thiago Silva to PSG?
June 11th, 2012 | by: Black Matt |

Comments Off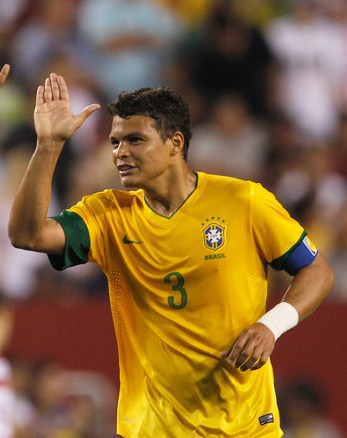 As a general rule, I don't take most transfer rumors seriously. But this one has the tang of truth to it.
If reports can be believed, Thiago Silva is on his way to Paris Saint Germain for somewhere between €40 and €50 million. The Selecao captain has been the target of speculation for pretty much every giant club this year, from the usual suspects like Manchester City to Barcelona. Silva himself has repeatedly said he wants to stay at Milan (as did Kaka before him) and Milan's president Adriano Galliani has always taken the time to squash the rumors.
But the news starting coming out yesterday in the French paper L'Equipe, and it wasn't long before Italian, Brazilian and international news outlets all started repeating it. Then, today, the French paper leParisien announced that Thiago Silva was in Paris for his physical and would sign tomorrow.
Again, I normally don't buy transfer rumors – they're the equivalent of the tabloids – but this one feels like it could be true. Especially given the price tag. If Silva was sold for somewhere north of €40 million, it would shatter the transfer record for a defender…easily. If PSG (whom are headed, it is to be remembered, by ex-Milan legend Leonardo, and managed by ex-Milan legend Carlo Ancelotti) actually are willing to shell out that much money (which isn't out of the question) then I don't see Milan turning them down. Galliani and Berlusconi have shown that they've got no problem with selling their talismans for cash, and while I believe Thiago Silva wants to stay in Milan, he wouldn't be the first to be swayed by such an astronomical figure. He'll never get an offer like that again in his life. And if his own club, to whom he has professed loyalty, are open to showing him the door…
If it turns out to be true, I'll be very disappointed. I don't want Thiago Silva to disappear into the forgotten morass that is French football. He can forget about winning the Champions League, and frankly, even his place in the national team might eventually (mind I say eventually, not immediately) be suspect, given that the Brazilian media, the Brazilian fans, and even the Brazilian coach pay almost no attention to the goings-on in France.
Plus, Milan has been my favorite European club for a long, long time. I always root for the clubs that have the most Brazilians I like, which means that both the Azzuri and the Nerazzuri have been favorites of mine for the better part of a decade. It was pretty damn hard to watch Italian football in the states 10-12 years ago, but I still remember getting excited when I could watch Ronaldo for Inter, or Cafu for Milan. And I was looking forward to seeing if Silva could take his place alongside Nesta, Maldini and Baresi as the next in a long line of legends.
This may turn out not to be true – again, I hope it's not – but this time I won't be surprised if it is.
—–
In any case, I plan on writing an article on the Argentina match, specifically on the formation Mano used, and Neymar's place in it. (Hint: both were major departures from anything he's tried before.) But I don't expect I'll get that up until next week. For those who don't know, I'm actually a professional ghostwriter, and I've got several projects due this week. So in the meantime, just enjoy the Euros and hopefully I can get another red-meat post up next Monday.
Subscribe

Brazil World Cup Team Blog RSS Feed

Share
Comments are closed